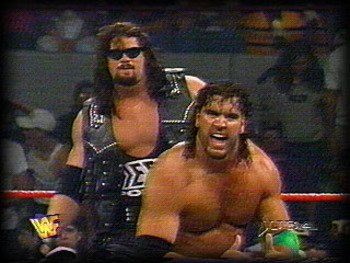 (This Headlie was written by Crapper Ator. Thanks, Ator!)
Orlando, FL-  Jeff Jarrett has stunned the wrestling world with a bombshell announcement. At the most recent round of tapings for the next eight months of Impact! Wrestling programming he took to the ring to make this proclamation:
"I know there has been very public discourse between Impact! Ventures and a certain pair of broken brothers over intellectual property rights. Well I'm pleased to let everyone know that we have come to a solution and this famous tag team is no longer OBSOLETE !"
The literally tens of fans in attendance began to chant "Delete! Delete! Delete!"
The lights went dim in the Impact! Zone and as they were slowly raised the crowd could make out the outlines of what appeared at first glance to be The Hardy Boyz, but something seemed off. Matt was nearly seven feet tall and Brother Nero was in his 60's and clearly not in ring shape. It was Glenn Jacobs and Rick Titan, the fake Diesel and Razor, up to their old tricks!
Before the crowd could react the sound of chopsticks being played on a piano began to ring throughout the arena. All eyes turned to the top of the ramp. There sat Dixie Carter dressed as Reby Hardy tickling the ivories very, very poorly.
Huddled at her feet was Grado sucking on a pacifier and wearing a frizzy wig clearly trying to pass as King Maxel.
Suddenly and without warning, Fake Sting leaped from the rafters and forcibly pinned Rick/Brother Nero with the speed and relevance of Arachnaman!
Meanwhile at the feet of Dixie/Reby her faux son, Grado, began to fidget with his wig. "Mama Reby, I'm sick of wearing this itchy thing," he whined as he ripped the wig from his head.
This enraged Double J. and he began to rant and rave as though he was on the very professional world of Twitter.
"That wig and the King Maxel character are the sole intellectual property rights of Anthem Entertainment and its affiliates. By breaking character you have rendered the contracts of the entire Nu Hardy Clan null and void!"
Dixie couldn't hold her tongue any longer. "I may be ditzy but at least I know where my bread is buttered, Darlin', "She said in a sweet but insincere southern drawl. At that Jarrett shouted, "Owl see you in court!" and beamed her over the head with his acoustic guitar.
There was a sudden puff of blue smoke and J E Double F J A Double R e Double T transformed into a magical litigious owl and flew off into the muggy Florida night sky never to be seen again.
Somewhere sweetly wafting in the distance you could hear the melodic strains of Tonight, Tonight by The Smashing Pumpkins.