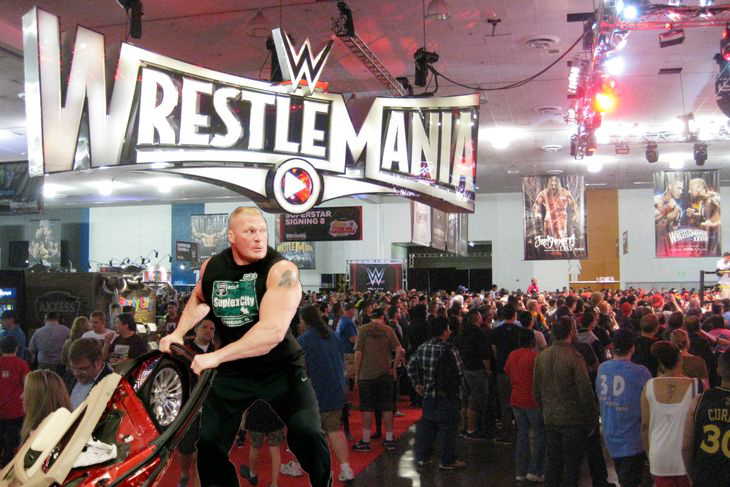 Arlington, TX – WWE officials have announced the latest edition to Wrestlemania Axxess will be the "Get Hurt By Brock Lesnar" booth.
On a conference call this afternoon, WWE Chief Brand Officer Stephanie McMahon and WWE Chief Revenue and Marketing Officer Michelle Wilson revealed details for the new installation.
"Axxess, which takes place in the days leading up to Wrestlemania, is a chance for WWE fans to meet their favorite Superstars, watch live matches, enjoy memorabilia from WWE's past, purchase merchandise, and experience interactive activities," said McMahon. "We are always looking to give the WWE Universe the best experience possible with our interactives. We've had past success with 'Put On Big Show's Singlet' 'Guess What's In Bray Wyatt's Beard' and 'Throw Out Trash With Duke "The Dumpster" Droese'. Now it's time to really give something the fans something to remember!"
"We've noticed a spike in interest from fans every time Brock Lesnar throws stuff into the crowd," said Wilson. "The car door last week and the monitor a few months ago were just the tip of the iceberg. We thought fans would be upset that one of our Superstars was being reckless and possibly endangering their lives, but they can't get enough!"
WWE quietly tested the idea of fans paying to be hurt by Lesnar at The Beast In The East event in Japan on July 4th. At a meet and greet event, several fans paid 6,000 yen ($48.89 US) to have items thrown at them by Lesnar.
"It was an incredible honor! Brock Lesnar hit me with a durian right in the face!" said fan Haruki Ikeda from his hospital bed through a translator. "My nose is broken, I cannot see out of my right eye, and I have a concussion. I cannot wait to go to Wrestlemania to have it done again!"
While details are still sparse, fans will be able to choose from a myriad of objects hurled at them or just be injured by Brock with his bare hands. For those interested and for a small extra fee, Axxess fans can also be insulted by Paul Heyman prior to or after the assault.