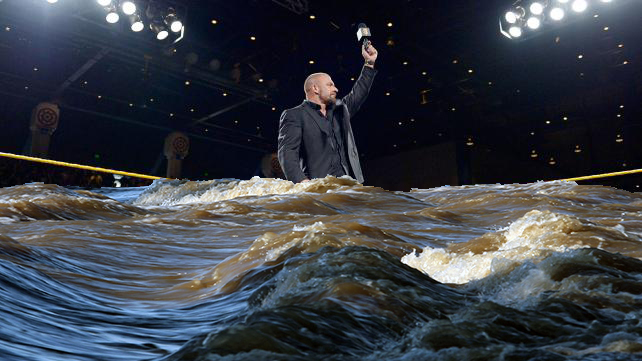 Winter Park, FL – Full Sail University, home of NXT, is currently in dealing with a flood emergency as a result of record tears following the Bayley vs. Sasha Banks match.
The historical match, which took place during NXT Takeover: Respect, had fan-favorite Bayley retaining her title against Banks in an 30-minute Iron Man Match. Emotions, running high throughout the night, came to a fever pitch at the conclusion of the match, leading to the current emergency.
"I've never seen anything like it," said Full Sail University president Garry Jones. "An entire crowd of people crying. It wasn't just a tear or two, I mean full-out, uncontrollable sobbing. Wrestlers, fans, commentators, camera operators. Even the guy selling popcorn was crying."
"I couldn't help it," said 36 year-old construction worker Chuck Jablonski who was in the crowd that night. "Bayley just deserves it so much! She's worked so hard and loves what she does so much. I felt…sorry, I just need a second to collect myself."
"I haven't cried like that since they canceled Saturday Morning Slam," said retired bus driver Deborah Cord. "I have a lot of feelings."
"I was mostly crying because I know that it's all downhill once Bayley gets called up to the main roster," said jaded 14-year old wrestling fan Emily McDonough.
Those tears began to pool on the floor of the arena quickly became unmanageable, causing Triple H to address the crowd. A misty-eyed Triple H breathed heavily, sloshing through the waist-high
"Folks," started Triple H. "I know that we just witnessed the most meaningful and beautiful wrestling match ever, but please, we're going to need everyone to evacuate. Bayley would want it this way."
The thought of leaving the arena was too much for the crowd as they began to weep uncontrollably while climbing into rescue boats. Several fans tried to create their own rafts by hugging each other Bayley-style, but they quickly sank to the bottom of the torrent.
Full Sail University will remain closed until the tears can be cleaned up and the damage assessed. No casualties were reported, though WWE officials have be unable to locate David Otunga, who has been missing for months.