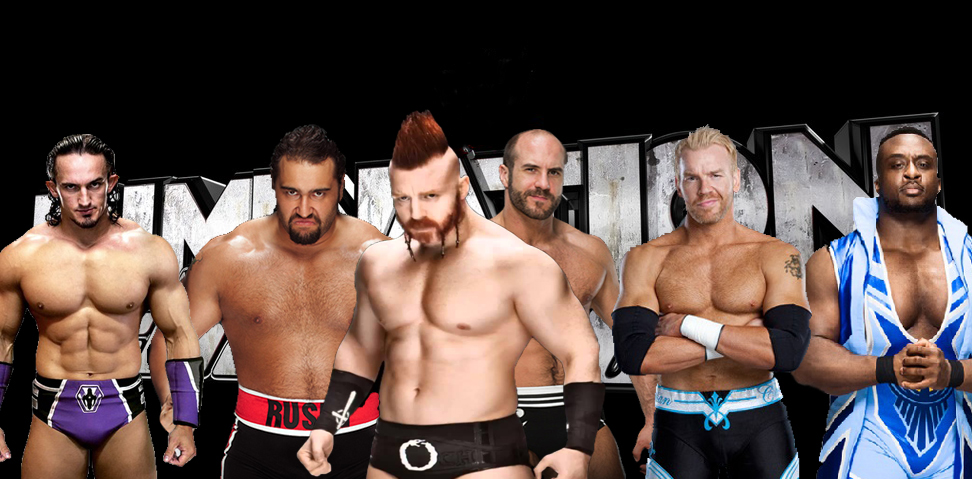 San Jose, CA – A third Elimination Chamber match has been added to the Pay Per View this Sunday with the stipulation that the winner will be given a full name.
Competing in the match will be Sheamus, Rusev, Neville, Cesaro, The New Day's Big E, and the returning Christian. The six Superstars gathered in the ring to discuss what having a full name means to them.
"All these fellas here have already had a full name at one point or another," said Sheamus. "But not me. I think I deserve to have a last name. Or a first name. I guess "Sheamus' can be either. The point is that I want it! I will shove my pasty arse in everyone's face if that's what it takes!"
"The Swiss Superman deserves to have his first name back," said Cesaro, receiving loud cheers of the crowd. "Do you know how hard it is to cash a check only using your last name? The teller is all like 'What's your first name?' and I'm like 'I don't have one, Vince McMahon took it away!'"
"I'm known as 'The Man That Gravity Forgot'" said Neville. "I'm also known as 'The New Sensation'. Those aren't first names! I miss being called Adrian. Even my mum now just calls me Neville. It's weird."
Rusev blamed his lack of a first name on United States propaganda and shouted a string of words in Bulgarian.
Christian said, "Hey, I'm just surprised as all of you that I'm still on the roster."
Big E, whose partners Kofi Kingston and Xavier Woods would be taking part in the tag team Elimination Chamber match under "Freebird Rules", tried to get the audience behind him. "San Jose, California! I am here to preach positivity. I am positive that I used to have a last name. I am positive that most of you remember that last name. Now use that positivity and help guide me to regaining that which is rightly mine!"
The former Intercontinental Champion then began clapping and chanting "Big! E Langston! Big! E Langston!" to which the crowd responded with "Big! E Sucks! Big! E Sucks!"
In a statement, WWE CEO Mr. McMahon said, "Elimination Chamber is going to be a great event, particularly this 'Full Name' match. 'Sheamus Lipschitz' has a good ring to it. So does Copernicus Neville. Oh, how about Irving Cesaro?" Both my daughter, McMahon, and my son-in-law, Triple, can't wait."