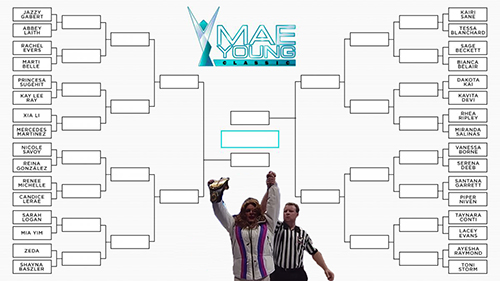 Orlando, FL – A news conference at the WWE Performance Center revealed that WWE officials have brought a former champion to compete in the Mae Young Classic tournament.
"Naturally, when you have a tournament with so many hard-hitting competitors wanting to win the grand prize, you're going to get some injuries," said Triple H. "Rather than some woman getting byes in future rounds or, y'know, letting wrestlers recover, we've decided to bring in replacement talent."
"We couldn't just put in any scar…er… I mean, other Superstar," said Stephanie McMahon. "We needed someone that would make a splash and would instantly have the respect of the fickle NXT crowd. After careful planning and getting rejected by most of the women we asked or still being mad at what they've said on YouShoot interviews, I'm proud to say we've found the perfect match: Hervina!"
Camera flashes filled the room as the 51-year old former WWE Women's Champion emerged from behind a curtain. Outfitted in a track suit and large sunglasses, Hervina gave a brief wave to the throng of reporters.
"Divas Revolution!" said Hervina in a surprisingly deep voice.
One reporter in the back of the room that sounded oddly like Michael Cole shouted, "I know your voice! You're Harvey Wippleman!"
"No questions!" barked Hervina while swiping at one photographer's camera.
"She's just a bit tired from all her training folks
Hervina, who holds the distinction of having the shortest reign in the title's illustrious history,
"Hervina has the kind of grit and testicular fortitude that we're looking for in this tournament," said Triple H. "She's got the guts, the brains, and clearly the looks. Mmmm. That curly hair that looks like it was bought in the store. That gravelly voice. That mature five o'clock shadow. The cutest little Adam's apple…"
"Oh, no you don't, mister," said Stephanie McMahon, grabbing Triple H by the ear. "We're not having another incident like that time I caught you with your arms wrapped around that hussy, Sack of Flour!"
All three left the stage, leaving reporters confused and slightly disturbed.
Hervina is scheduled to take on the newly-returned Santina in the second round.