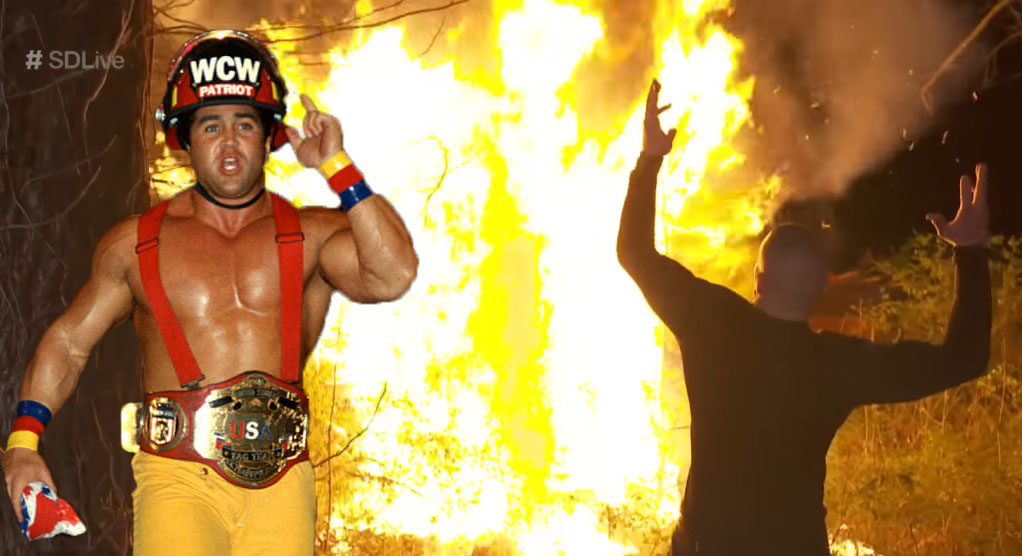 WCW Special Forces – Former WCW star Firebreaker Chip issued an open challenge to WWE Superstar Randy Orton following Orton's burning down of Bray Wyatt's compound.
"Mr. Orton has shown a complete disregard for fire safety," said Chip. "We try to teach these kids from a young age that playing with matches is dangerous. Sure, the audience might cheer for you now, once the smoke clears, they'll realize that pyromania is a serious problem with serious consequences.If you play with fire, you're…well, you're probably going to headline Wrestlemania, but you know what I'm trying to say."
Orton, a man with a history of mental problems and violent outbursts, can now add arson to his long list of questionable acts.
"I'll take on Orton wherever he wants," said Firebreaker Chip. "Raw, Smackdown, WCW Worldwide, WCW Saturday Night, you name it. Any type of match you want, Randy. Steel Cage, Bunkhouse Brawl, Battle Bowl. Just no Inferno matches. Safety first!"
When asked about his game plan to take on Orton, Chip said, "My firefighting budget isn't what it used to be, but you better believe I'll use my patented squirt bottle on him. Squirt! Squirt! Squirt!"
When asked for comment, Orton slowly and methodically said, "Firebreaker Chip? That sounds delicious. I'll bring some dip."