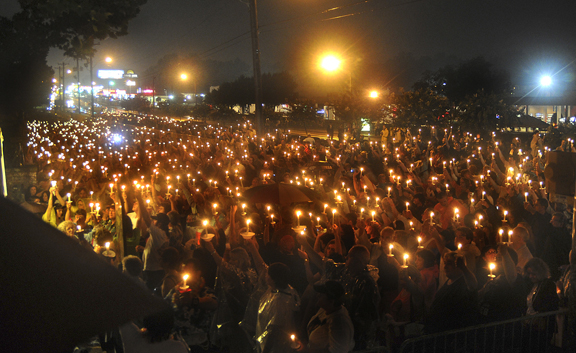 Chicago, IL – Hundreds of wrestling fans gathered outside the AllState Arena early this afternoon, holding a candlelight vigil for the missing CM Punk. The gathering was led by Punk's best friend, independent wrestler and aspiring comedian Colt Cabana.
"It's so great to see so many of you here to support my friend, CM Punk, who has been off of WWE TV for weeks," said Cabana who was also recording an episode of his The Art Of Wrestling podcast. Cabana, who very briefly wrestled in the WWE under the name "Scotty Goldman" and repeatedly says he's not bitter about it, trained with Punk at the Steel Domain in Chicago and wrestled multiple matches against him on the indie scene.
"I know many of you are lost without Punk. I know many of you are scared, your fingers are tired from furiously typing on your laptops, and your throats sore from yelling out his name at every given moment. Punk needs you all to be strong."
The crowd softly sang Living Colour's "Cult of Personality"and Killswitch Engage's "This Fire Burns" as several people openly wept. One member was even dressed as a giant foam microphone. A brief scuffle broke out after one member of the crowd was seen drinking a can of Coca-Cola, but cooler heads prevailed.
"We love you, Punk!" shouted one male member from the crowd wearing a Chris Hero shirt.
"Punk shows up or we riot!" shouted a female fan dressed as AJ Lee.
"Save us, Punk!" shouted the first fan.
"That's Jericho, you idiot!" shouted a fan wearing a Claudio Castagnoli shirt.
"Don't lose hope," said Cabana. "Buy one of my t-shirts. Make sure to subscribe to my podcast. This week I'm talking to a British indie guy that most of you haven't heard of. Punk would have wanted it that way. Thaaaaankkkkssssss."