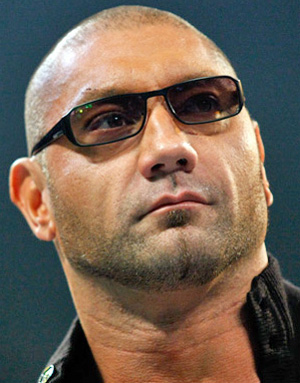 Richmond, VA – WWE World Heavyweight champion Daniel Bryan shocked the wrestling world this past Monday by announcing on Raw that he had suffered a neck injury, requiring surgery. While no specific in-ring moment could be pinpointed as the cause of the injury, many wrestling fans immediately placed the blame on WWE Superstar Batista.
"Bryan's promo on Raw was a call to action," said Patrick Lee, a frequent poster for the on various wrestling forums. Lee, who posts under the moniker "Uht0micDr0pp", reached out to people on his various social media accounts, asking everyone to scour videos for the exact moment where Daniel Bryan was injured.
"I put on my lucky fedora and got to work," said Lee. "I watched about 10 matches from the past month to see what I could find. I went frame by frame, trying to find something. And I wasn't the only one. There were people from all over the world looking."
The search lasted five days when the group finally had a breakthrough. Reddit user "creepybearhugz" had discovered video from a Bryan/Kane house show match late last month in which Bryan was on the receiving end of a tombstone. Creepybearhugz posted several screenshots from the video, circling a section of the crowd that appeared to be a pink blur.
Social media exploded as many pointed to the pictures as irrefutable proof that Batista was the cause of the injury. The hashtag "#headbuttforBryan" began to trend worldwide.
"Ugh, I hate Boretista so much! He ruins everything! #headbuttforBryan #Iwalkformilesinsidethispitofdanger" read a tweet from Twitter user @ropeheartbreak.
"I am going to eat my first born son because of Batista #headbuttforBryan #hotsauce" read a tweet from @AksanaLanaThreeWay
Not all the responses were negative though. "Batista is a good guy. Classy. Great fashion sense. He should be my running mate." tweeted @realDonaldTrump
"We did some great work," said Lee, his eyes closed in self-satisfaction. "I would have found those pictures if I didn't have to mansplain to some dumb girl how men's rights are being trampled on by the femaletocracy."
"These dorks are absolutely ridiculous!" said Batista. "I wasn't even there. I was busy getting a private tour of the Ed Hardy world headquarters. I don't have time to deal with these mouth-breathers. Instead of making wild accustations, maybe they should type up another 'manifesto' with their Dorito-stained fingers. Stupid nerds!"
Currently, a Whitehouse.gov petition to fire Batista and deport him from the Earth has reached over 500,000 signatures. President Obama has yet to respond.