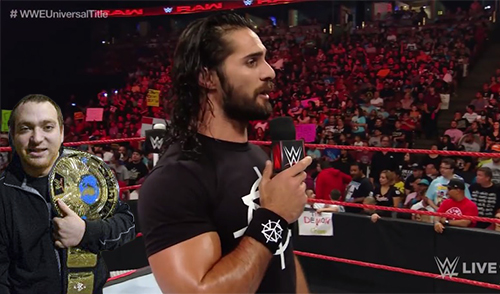 Brooklyn, NY – Diehard WWE fan Vinny "DJ V-Card" Accardo achieved his lifelong dream on Monday night by jumping into a WWE ring and completely ruining the entire show.
The intrusion occurred during a passionate Seth Rollins promo at the top of the hour. Following his intense battle with Finn Balor at last night's Summerslam, Rollins expressed his genuine feelings in a heartfelt manner. With the crowd firmly behind him, Rollins began to set up his match at Clash Of The Champions when Accardo jumped in the ring.
The forty-three year-old from the Bronx struggled to get over the barrier and ungracefully slide under the bottom rope. He stood awkwardly behind Rollins, replica belt still perched on his shoulder, much like a deer caught in headlights. Rollins noticed the doughy man behind him and immediately lost his concentration. Accardo struggled to remove his track jacket to reveal the address for his fansite, but only ".cjb.net" was visible on camera before he was tackled and removed by security. The show never recovered its momentum.
Accardo, who was placed in police custody, said that he had been planning this for years. "Ever since I was a kid, I always wanted to mess up this show I love. When I was finally able to pay for front row tickets, I knew tonight was the night. Well worth dropping $1,000 for this moment. Chris Jericho even called me a 'stupid idiot' Best night of my life!"
Accardo was released on a $10,000 bond and is currently awaiting trial.