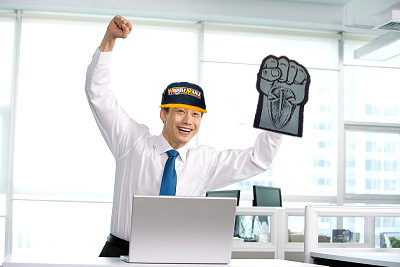 Portland, OR – Lifetime wrestling fan and current Assistant Director of Communications got TechSprout Industries Andy Liu has dubbed himself the "King Of The Office" after correctly predicting the outcomes of every match at Wrestlemania 32.
Liu confidently strode into his office at 8:30am, his head held higher than usual for a Monday morning. He took a large sip of Smoked Butterscotch Latte which he purchased as a reward for all of his hard work.
"I was pretty confident going into Wrestelmania that I would get most matches right," said Liu, ignoring several voice mails on his office phone. "Jericho vs. Styles was pretty easy. Same with Kalisto vs. Ryback. Honestly, I can't believe I got the ladder match right. I chalk that up to a lot of skill and a little bit of luck."
Liu struggled through his morning meetings, resisting the urge to jump up on the conference table and do several classic wrestling poses. He spent most of his lunch break bragging on several message boards and fashioning a crown for himself out of printer paper and paper clips.
His natural high began to wear off around 2:30 when he visited Sue from Accounting.
"Hi Andy, how was your weekend?" said Sue, looking up from her spreadsheet.
"Pretty great!" exclaimed Liu. "I watched Wrestlemania last night and, get this, I correctly predicted every single match!"
"Wrestlemania?" asked Sue. "Oh, you mean that Hulk Hogan thing? That's nice. I went antiquing. I bought the cutest water pitcher!"
Liu returned back to his cubicle slightly defeated, but quickly cheered himself up by pretending he was entering AT&T Stadium to thousands of screaming fans and raising an imaginary WWE championship belt.
He did not notice that his coworkers were watching his exaggerated movements and laughing loudly.