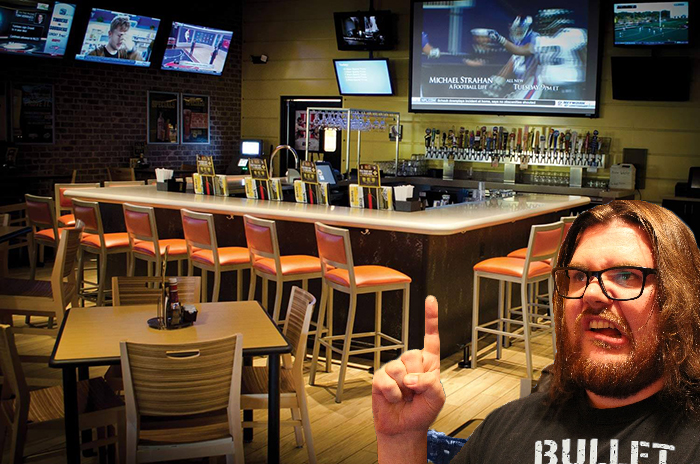 Shrewsbury, MA – During an extensive discussion of New Japan Pro Wrestling's upcoming Wrestle Kingdom 12, it was revealed that longtime wrestling fan Jack Ames has been making up names and facts in order to sound like he knows what he's talking about.
At the weekly meeting of the Super Wrestling Friends Club at the Shrewsbury Buffalo Wild Wings location, the group of wrestling fanatics excitedly discussed the upcoming Japanese supercard event.
"Suzuki versus Goto is going to be huge," said Ames, discreetly looking at the lineup on his phone. "The build up reminds me a lot of Toyota Kawasaki versus Sid Vader from All-Japan back in '92. I'd show you guys, but it's not up on Youtube."
The group politely nodded along, despite not knowing who or what he was talking about. Realizing his ruse was in trouble, Ames quickly changed the subject to former WWE star Cody Rhodes, focusing heavily on his "Dashing" character from several years ago.
The conversation eventually shifted to all-time great Japanese wrestling matches, further exposing Ames's lack of knowledge. After mispronouncing current WWE star Shinsuke Nakamura's name several times, Ames talked about a International Wrestling Enterprise match from the early 80's featuring Fats Domino against Takeru Kobayashi.
"I thought maybe he got some mango habanero sauce on his brain or something," said group Vice President Brad Purnsley. "Kobayashi is the Nathan's hot dog eating guy."
"We knew something was up when he said Chris Jericho would beat Pineapple Kojima," said member Efrem Lewis.
Ames's plan finally fell apart when he referred to Bullet Club member Bad Luck Fale as "Mad Chuck Fail".
"I couldn't handle it anymore," said group president Allie Ferris. "I jumped up from the table and suspended him from the group for 1 month. I didn't even care that I knocked over our order of mini corn dogs. If there's one thing this group won't tolerate, it's making stuff up. Also, liking Mojo Rowley. That's a no-no."
Ashamed but undettered, Ames vowed to make a comeback.
"I'll show them! I'm going to watch a ton of Japanese wrestling matches and find the most obscure wrestlers and totally blow their minds!" declared Ames. "And as God as my witness, I will prove that Sega Nintendo is a real wrestler!"