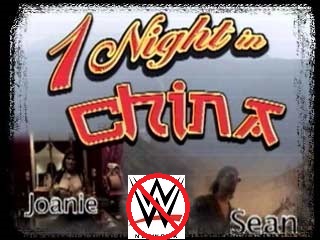 Oshkosh, WI – 24 year-old wrestling fan Danny Burnett has decided to cancel his subscription to the WWE Network after discovering that the streaming website would not be providing "1 Night in China".
The amateur pornographic film stars former WWE stars Joanie Laurer aka Chyna and Sean Waltman aka X-Pac aka 1-2-3 Kid aka Syxx aka Syxx-Pac aka The Lightning Kid aka The Kamikaze Kid aka Pac aka 6-Pac. The film has been available through Red Light District Video since 2004, but Burnett insisted that the Network should be carrying it.
"I'm paying $9.99 a month for all of WWE's content. All. If they're going to show Over the Edge '99 and all the Chris Benoit matches, they should show some Chyna-on-Pac action," said Burnett. "I mean, does Triple H and Vince take us for saps?"
Despite having literally thousands of hours of content at his disposal, Burnett spent the first day of his subscription looking for very specific content. His search history included the terms "Kat Topless" "Stacy Carter Topless" "Jacqueline Topless" "Nipslips" "Mickie James Trish Stratus" "Melina Splits" "Extreme Expose" "Miss Elizabeth Summerslam" "Stephanie Boobs" "Puppies" "Bra and Panties" "Big-Nippled Vampire" and "Big E Langston pulls down the straps".
"I mean, yeah I know the movie has been out there for a while," said Burnett as he alphabetized by genre his adult film files on his computer conveniently hidden in the folder labeled 'Faxes'. "But I'm not going to go search for it on RedTube or something like that. I'm not a pervert!"