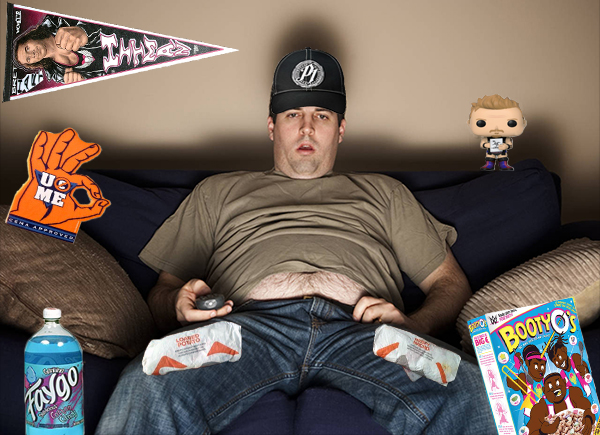 Red Springs, NC – Die-hard pro wrestling fan Aiden Garcia is already prepared to watch Wrestlemania despite the event not taking place for another four weeks.
"I've been waiting all year for this and I'm not going to miss a single second," said the unmarried 36-year-old. "I'm on the road to Wrestlemania and nothing is going to detour me. Not friends, not family, not the gym. I took a leave of absence from my job as Assistant Manager at Fiddlesticks Pitch-N-Putt too. I am fully dedicated to this."
Garcia has firmly planted himself on the couch in his one-bedroom apartment, moving only for food and bathroom breaks.
"Mail order services like Peapod, MunchPak, and Hot Pocket Of The Month Club has really cut down on time I would've wasted going to the store," said Garcia with a mouthful of gummi worms. "I wheeled over my microwave just in case I fall asleep during a Total Divas marathon and my pizza rolls get cold. I will put a bucket near the couch as we get closer to Mania."
Several neighbors have called local police to provide wellness checks on Garcia after an unpleasant smell began emanating from his apartment.
"Man, people freak if a guy doesn't shower or throw out garbage for a few days," said Garcia, rubbing a car deodorant under his arm pits. "It's like they never watched every Wrestlemania, Starrcade, and Heatwave in a row. They just don't understand what real commitment looks like."
The super fan remains unconcerned about his high-sodium, high-carb, vegetable and fruit-free diet and lack of movement. "I clap and chant along with the crowd. That's counts as exercise. I also make sure to turn over ever couple of hours to prevent bed sores."
As for his plans after Wrestlemania, Garcia said, "I dunno. Maybe finish getting my PhD or something. I'll see what the lineup for Summerslam is like first."