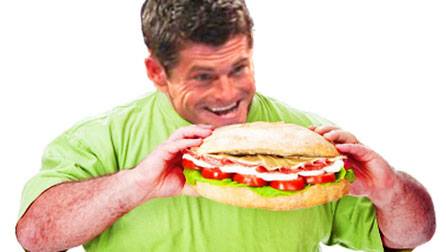 St. Louis, MO – WWE Superstar Evan Bourne has started a new training regime to prepare himself for his in-ring return following a horrific foot injury from over a year ago.
"That injury was a blessing in disguise. It really gave me time to enjoy some of the finer things in life," said a noticeably heftier Bourne. "I couldn't really do much with my injured foot, so I spent most of my time watching reruns of Small Wonder and Count Duckula and eating. Did you know that Dominos will actually put a chocolate lava cake inside their bread bowls if you ask nicely?" said Bourne between labored breaths and mouthfuls of "Ketchup & Fries" flavored chips from Burger King.
The former-tag team champion, once billed at a lean 165lbs, has been bulking up to prepare for his upcoming matches. "Vince McMahon loves big guys. I was getting nowhere with all those flips and jumps. I had to put on some mass, so I've been drinking nothing but milkshakes and Steven Seagal's Lightning Bolt energy drinks. I hit the gym once or twice a week, mostly sitting on the bike and watching my stories. I try to time it for when they have free bagels in the morning or pizza in the afternoon. I'm a total beefcake now," said Bourne, wiping the sweat out of his double chin with a wetnap from Church's Chicken.
"I know things won't be like when I left. Kofi's hurt. I mean, I used to be paired up with Gail Kim for like two weeks. I should probably giver her a call. I'm sure her husband, Robert Irvine, needs a food taster," said Bourne as he took a swig from a water bottle filled with barbeque sauce.
"I'll still do the moonsault, though, as my finisher. Here, I'll show you," said Bourne as he struggled up the turnbuckle. Eventually making his way to the top, Bourne's trunks began to sag, causing him to loose his balance, and flip backwards out of the ring. As he laid on the floor, unable to move, Bourne wheezed, "See? I still…got…it. Bring it…Primo and…Epic…owwww."
It is believed that Bourne will soon be repackaged as either "Adorable" Evan Bourne or "Air Porky" and forced to join Tons of Funk.