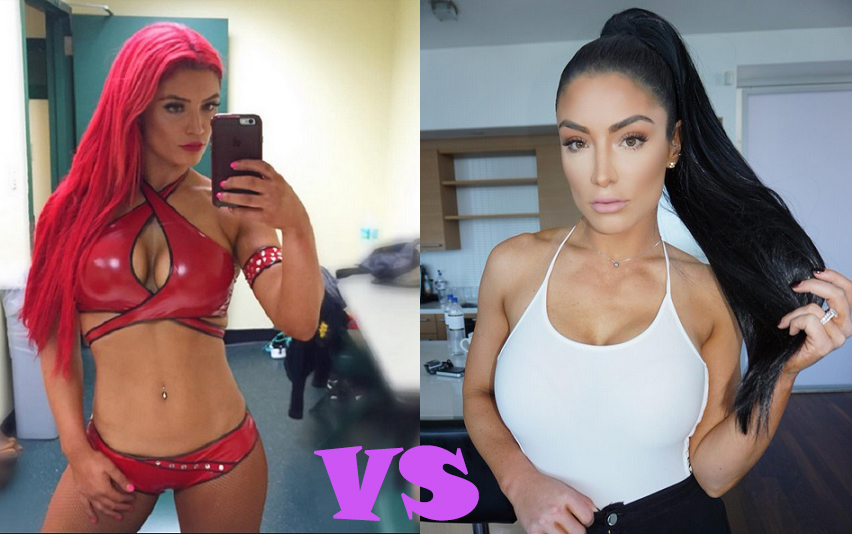 Baltimore, MD – An epic battle has been set for next month's Clash of Champions Pay-Per-View as Eva Marie with red hair will take on Eva Marie with black hair.
The feud began, naturally, on Eva Marie's Instagram page. Two weeks ago, pictures began to surface showing Eva Marie with black hair. On Twitter, Eva Marie had stated that someone had hacked her Instagram page and assured fans that she had not dyed her trademark red hair.
Sightings of a black-haired Eva Marie increased this week, first at Smackdown last week and again at the Backlash Pay-Per-View last night. On Raw, a red-headed Eva Marie addressed her fan.
"Oh my gosh, you guys. I totes have no idea what's going on. First, I'm like suspended for some lame reason, then there's this like imposter Eva Marie and she looks totally gross. Ugh! This is worse than that time I asked for Kale-ribbean Breeze smoothie from Jamba Juice, but they gave me Greens N' Ginger instead!"
Eva Marie Rojo, as she is now being referred to on the internet, was suddenly interrupted by a black-haired Eva Marie on the Titantron.
"Eva? It's me, Eva." said Eva Marie Negro. "You had your chance. The time of Eva Marie Negro is here. There can be only one!' shouted Eva Marie Negro before giggling "I heard that in a movie once. There was this guy with a sword and then this other guy trying to kill him. It was real spooky! It was called 'Hidelander' or something. You should watch it!"
"That's not the real Eva Marie," said Michael Cole even more lifelessly than usual.
"I'm seeing double! One Eva Maries!" shouted JBL to the enjoyment of absolutely no one.
"Use the hashtag 'You already paid for the Network so you might as well watch anyway' yelled Corey Graves.
Eva Marie Rojo is set to take on Eva Marie Negro at Clash Of Champions unless WWE comes up with another way to keep Eva Marie off television for another month.