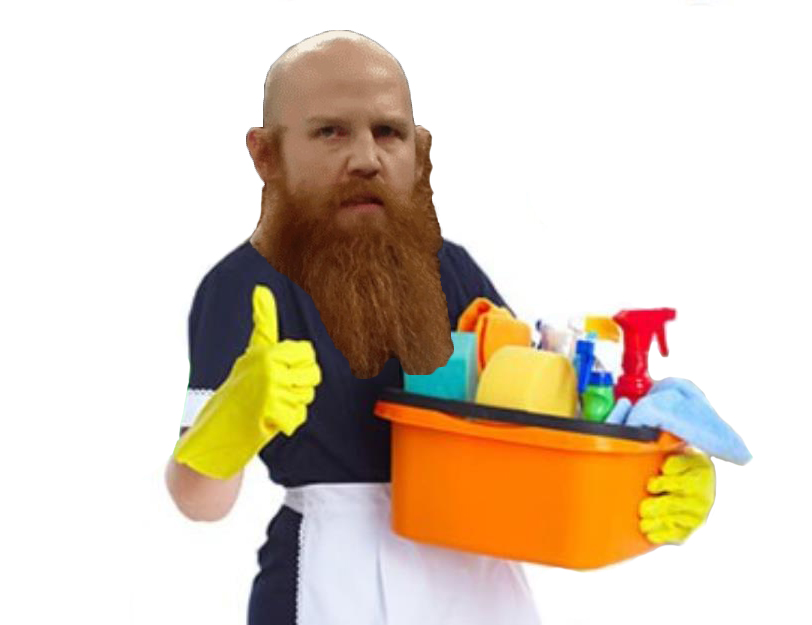 San Jose, CA – Following the brutal main event match at Payback between Randy Orton and Bray Wyatt, Wyatt family member Erick has taken it upon himself to clean up Bray Wyatt's House of Horrors.
Donning a bandanna to keep sweat out of his eyes and a maid outfit to keep his filthy jumpsuit clean, Rowan removed a bucket filled with cleaning supplies from beneath a filthy sink and got to work.
"Tsk tsk tsk," said Rowan to himself while putting on yellow rubber gloves. "These fellas really know how to make a mess. This might take me all night. The real House of Horrors are their manners."
After sweeping away bits drywall, creepy plastic doll parts, and the very last remnants of Randy Orton's credibility, Rowan sprayed the counters with Fantastik and began scrubbing.
"That lemony scent really helps mask the smell of blood and Bray's hair," said Rowan to himself. Soon, frustration began to set in for Rowan.
"Bray had better appreciate all that I do for him. I cook and I clean and for what? Braun Strowman is his favorite just because he throws people in dumpster. Heck, I can do that. I'll even throw a dumpster into a dumpster. Let's see big, stupid Braun do that!"
After several hours of mopping, wiping, and drying, a tired Rowan looked over the newly-cleaned House of Horror and sighed. "Mother was right. I never should have stopped being a vintner."