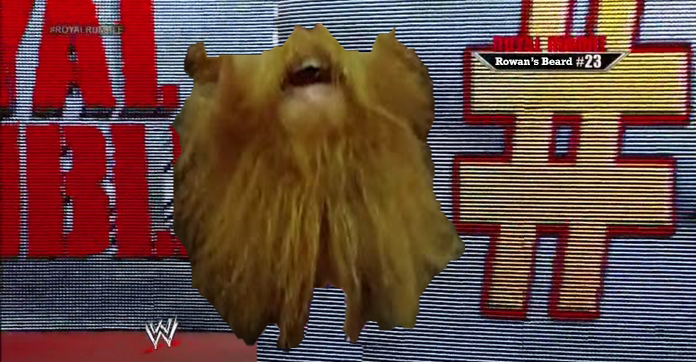 Orlando, FL – Out of all the surprise entrants in last night's Royal Rumble match, none were more surprising than Eric Rowan's beard.
The now-sentient beard entered the Rumble to a mixture of stunned silence and muted horror, quietly swishing back and forth down the aisle. The confused look on wrestlers' faces showed that the beard's appearance was not common knowledge in the locker room prior to the event.
Without warning, the beard spread out in multiple directions, enveloping several participants in it's squid-like hair tentacles.
"Gross!" screamed Xavier Woods. "Gross gross gross gross gross gross!"
"Are those chunks of apple in it?" yelled Curtis Axel
"Tam!" shrieked Dolph Ziggler
Eric Rowan's beard showed complete and utter dominance, tossing out six wrestlers. The beard completely enveloped Adam Rose, leaving nothing, but a cleanly-picked skeleton, before being Superman punched by Roman Reigns and tossed over the top rope.
"I had asked the boys to really step it up," said Triple H. "It's no secret that the roster is a little thin with all of the injuries, so we needed some fresh blood…er, hair…for the Rumble. Plus, this opens up a whole new avenue for matches at Wrestlemania. Beard vs. Beard, Beard vs. Mask, Beard vs. Hair. The sky is the limit!"
While it is still early, some Wrestlemania possibilities include Eric Rowan's beard vs. Kalisto's mask, Eric Rowan's beard vs. Kevin Owen's beard, and Eric Rowan's beard vs. Jason Albert's back hair.