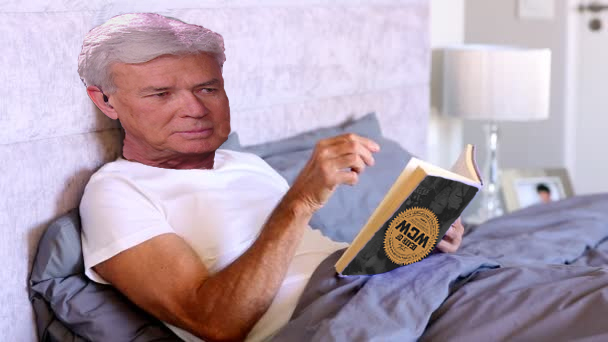 Schaumburg, IL – As the crowds dissipated and the lights faded from Starrcast, former WCW owner Eric Bischoff did something he thought he would never do: read RD Reynolds' and Bryan Alvarez's comprehensive book The Death Of WCW.
The Death of WCW panel, which became heated at several points as Bischoff hurled insults at a calm and diplomatic Reynolds, was well-received by those in attendance. Eventually, the two found some common ground and parted with a mutual respect.
Though Starrcast was a whirlwind weekend of fans and friends, an uncomfortable feeling remained in the back of Bischoff's mind. His defense on the Death of WCW Panel felt hollow. He knew that his claims that Dave Meltzer had written the book and that information was only provided by "stooges" was false. In fact, he really knew nothing of what was in the book and it was time to change that.
Bischoff sat up in his hotel bed, book in hand, and a Meat Lovers pizza by his side.
"Alright, let's see what this nonsense is all about," he said to himself, flipping through the pages. "At least I get to read some good Jim Herd stories!"
For the next several hours, Bischoff was taken on a non-stop thrill ride of emotions. He laughed, cried, and cringed as he relived the incredible highs and devastating lows of WCW. Minutes turned to hours and he still could not put the book down. Early morning light crept through his hotel window and on to his now-empty pizza box.
Bischoff, tired and full, finished the last page of The Death Of WCW and sighed. He reflected not only on the events of the past few days, but over the last few decades. Staring into the mirror, Bischoff thought long and hard about who or what actually killed WCW.
"Was it me?" he thought, "Hogan? Bill Busch? Standards and Practices?"
He then flashed his pearly whites, let out a small chuckle, and said, "Nah. I was great. Handsome, too! It was that stupid AOL-Time Warner merger. It's always the merger. Oh, and Russo. Definitely Russo."
Bischoff then grabbed the book and shot it across the room into a trash can, three-point style.