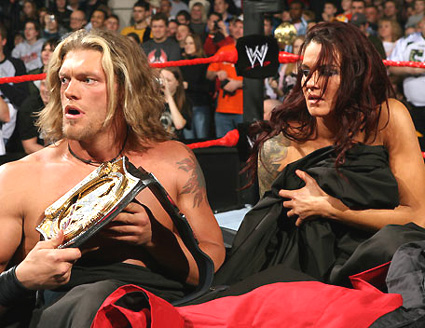 Tampa, FL – Lisa Ortiz, the second wife of WWE Hall of Famer Adam "Edge" Copeland, has respectfully declined an invitation to induct Amy "Lita" Dumas into the WWE Hall of Fame on WrestleMania weekend.
Dumas, 38, will be the third modern-era "Diva", after Tammy Sytch and Trish Stratus, to be inducted into the company's Hall. Her career was notable for many reasons, chiefly among them her 2005 villainous turn which was spurned by her real-life affair with Copeland, while he and Ortiz had been married for less than one year.
"Oh, I wish her nothing but the absolute best," gushed Ortiz, when informed of Dumas' induction. "She was very influential to lots of young women, and I know she's thrilled to see her hard work pay off. I just regret that I can't be there to see her induction come to be!"
Ortiz, who publicly berated Copeland and Dumas once news of the affair came to light, four months after her wedding to Copeland. The two divorced after just 13 months of marriage.
"I watched that video package of Lita's on Monday, and it made me wistful to see so many positive memories," said Ortiz. "You know, all the footage from 2000 through 2004, and nothing afterward. It's important to remember these performers for the most glorious parts of their careers, and I'm glad WWE whittled it down to just that stretch, probably for time reasons more than anything. But yeah, I just watched it and was like, 'you go, girl!'"