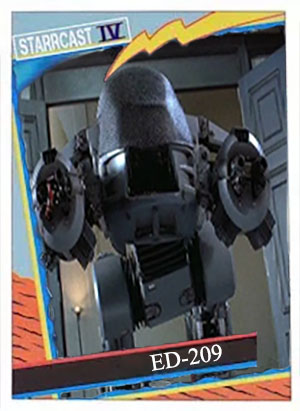 Baltimore, MD – Legendary killer robot ED-209 made an unexpected appearance at Starrcast IV this weekend, interrupting Robocop's signing.
Stomping past the line of eager fans, ED-209 gave Robocop a large hug and firm handshake. Onlookers filmed video of the two exchanging tense pleasantries which quickly turned aggressive.
The enforcement droid rose to fame in the late 80's and early 90's co-starring in the Robocop movie franchise. After a stint on Hollywood Squares and guest appearances on Blossom and Mad About You, ED-209 disappeared from the public eye. Many believe that years of bitterness towards Robocop led ED-209 to crash Starrcast.
"I'm calling you out, Robocop," said ED-209. "You think you're so great just because you had a cartoon and a remake. Why didn't WCW have a 'Return Of ED-209' special, huh? What about me? What about ED-209?!"
A brief tussle broke out with Sting getting in between the two robotic police officers.
Attendees were confused, but excited at the sight of the two enemies back together again.
"I'd buy that for a dollar!" said Devin Chonsky.
"Dead or alive, yeah I'd probably watch clips of this on Youtube," said Angie Arace.
Several wrestlers weight in as well.
"It's great to see Ned-209 and RobertCop back together again!" exclaimed Jim Ross.
"To be honest, I think ED-209 might have been drunk," said Ding Dong Number 1. "Can robots get drunk?"
"That is a very interesting question as it is not one of Asimov's Three Laws Of Robotics. Yet ED-209 clearly ignores Asimov's laws, so anything is possible," replied Ding Dong Number 2.
"Yes, quite fascinating," said Ding Dong Number 1.
AEW officials are rolling with the unexpected intrusion and are planning to have a grudge match at the next pay-per-view Full Nostalgia.