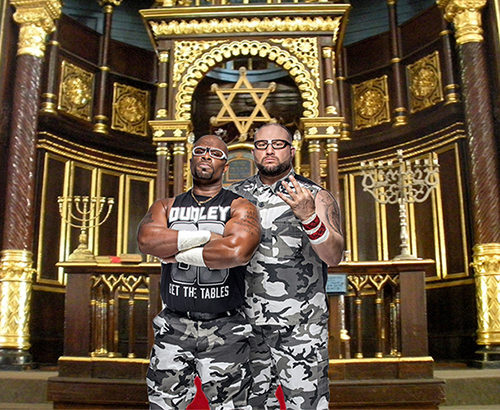 Brooklyn, NY – World Famous tag team The Dudley Boyz officially changed their name to The Dudley Men following their bar mitzvahs this past Saturday.
The former WWE, ECW, and TNA tag team read from the Torah at Temple Beth Israel in Brooklyn, signifying their ascent into manhood. The ceremony, which was presided over by Rabbi David Shulman, was many years in the making. Among the duos family and friends in attendance were Colt Cabana, Dean Malenko, Bill Goldberg, Noam Dar, and Paul Heyman
"How could we go through our entire lives without ever becoming men in the eyes of the community?" said Bubba Ray Dudley, adjusting the yarmulke on his head. "We won almost every tag team title there is from all over the world, but something was missing. There was an emptiness inside both myself and my brother D-Von."
"Even back in the ECW days, we used to hear Paul E. talk about his heritage and it always appealed to us," said D-Von in between bites of challah. "All the flaming table spots in the world to amount to a hill of hamentashen if you're not a man."
Under the tutelage of former professional wrestler Barry Horowitz, The Dudleys learned about the Jewish faith, traditions, and the Hebrew language.
"You should've seen D-Von's face when Barry mentioned the circumcision part," laughed Bubba Ray.
D-Von grimaced and hung his head.
"Don't worry, D-Von. Put a little ice on it and lets go shtup some shikses," said Bubba Ray.
"Oh, my brother. Mazel Tov!" shouted D-Von triumphantly
Following their bar mitzvahs, the Dudley Men enjoyed pastrami sandwiches at Katz's Deli and finished their Hanukkah shopping.