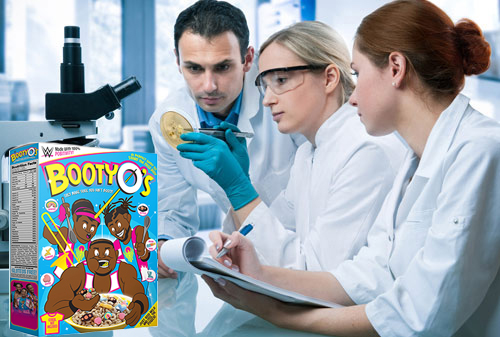 Rochester, MN – Several doctors and scientists have been vigorously studying Booty O's cereal to determine what medicinal effects they may have.
Experiments on the official cereal of the WWE tag team champions The New Day began one week ago at the Mayo Clinic. Kofi Kingston, Xavier Woods, and Big E hand-delivered 500 boxes of the cereal in exchange for lab coats, goggles, and clip boards.
"We are ridding the world of booty, one bowlful at a time," boasted Woods. "Now, it's time to see just how good The New Day really are!"
Big E swiveled his hips suggestively, accidentally knocking over test tubes and beakers with his aggressive gyrations. Kofi Kingston strategically twerked a carton of milk off a counter, pouring the contents into a waiting bowl of Booty O's.
"We know that Booty O's are full of great flavor and are part of a balanced breakfast, but we wanted to find out just how beneficial they were," said gastroenterologist Dr. Lucas Strid, adjusting his glasses. "The deliciosity is off the charts and it contains just about every vitamin known to man. In fact, there may be a few new ones!"
Strid then ate a spoonful of the cereal.
"My god!" exclaimed Dr. Strid. "My…my glasses! I don't need them anymore! I have perfect 20-20 vision now! Thank you, Booty O's!"
Xavier Woods played a celebratory song on his trombone while Big E and Kofi joined the rest of the doctors and scientists in a victory dance.