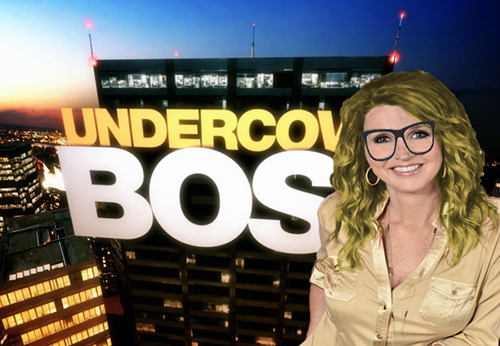 Toronto, ON – In an effort to stay one step ahead of WWE, Dixie Carter recently filmed an episode of the television show "Undercover Boss". The show features the head of a company wearing a disguise and posing as a new hire to learn about their company and some of the workers.
Over the course of a day, Carter, sporting a blond wig and what she referred to as "yucky nerd glasses", worked various jobs at Impact Wrestling. Her morning started setting up the ring with the rest of the crew. She struggled attaching the ropes and was accidentally rolled up in the old canvas. When they finished, Carter tried to connect with the head of the crew, Roscoe Mullins.
"It's hotter than Possum and Mountain Dew Stew on the 4th of July," said Carter, cracking open a cold Fresca. "So…do you like working here at TNA?"
"It's not so bad," said Roscoe. "I've been stealing turnbuckles, forging wrestlers' signatures and selling them on eBay. By the way, want any turnbuckles signed by Rosie Lottalove and Cody Deaner? I've got like thirty of these things."
Carter then moved to concessions where crossed out expiration dates on bags of chips, cut up hot dogs, covered them in cheese and labeled them "nachos", and made lemonade.
"Needs more sugar, sugah," said Carter, winking to the camera.
Following that, Carter sat in on a creative meeting. Her idea for hiring her husband Serge went undiscussed.
Carter finished her day working in the ring with training wrestlers. She ran the ropes, learned how to throw a punch, and took a power bomb off the top rope through a table.
"This is a great place to work," said newly signed wrestler Chuck Thunder. "I've learned so much and everyone has been wonderful. I'm looking to be here for years."
Thunder's Apple watch suddenly beeped.
"Looks like my contract is already up," said Thunder. "This place is a public toilet at the bus station. Not even worth a flush. I'm off to CZW where they appreciate people."
At Impact Wrestling's weekly meeting, Carter finally removed her wig and glasses, saying "It's me, ya'll!" to utter silence. "Aw, all ya'll are just so shocked that you can't believe it was your boss Dixie Carter the entire time!"
"Shoot. Most of ya'll are new, ain't ya? That's why you don't know me!" said Carter. "Well, to show my appreciation for all your hard work, I am giving everyone a coupon book for Whataburger. Make sure to use them by the end of this week before they go bad!"
"Did, uh…did no one tell her that she was no longer the chairwoman after selling to Anthem?" asked Executive Vice President Louis Maione.
"Shhh. We could use the ratings boost," said Anthem Sports chairman Loudon Owen.
For appearing on the show, Carter received $200 Canadian and was given three minutes to grab whatever she wanted out of the merchandise closet.