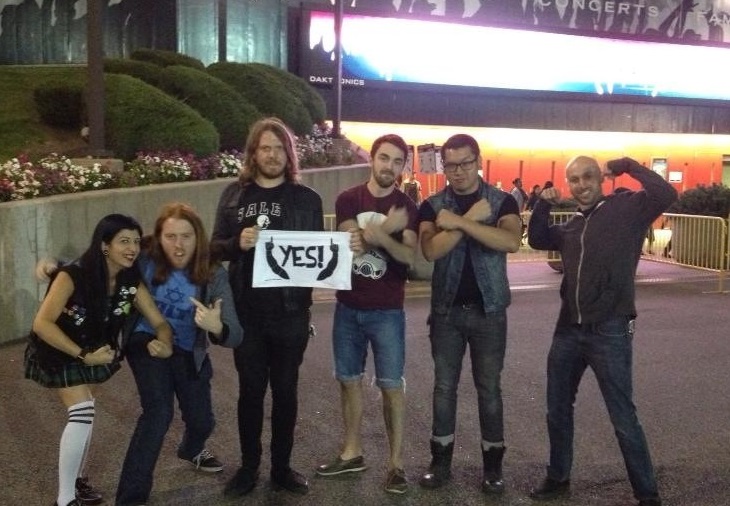 New Orleans, LA – Members of the Facebook group "Yes! Yes! Yes!" are excited to be attending Wrestlemania XXX and even more excited to be ruining it for everyone else.
The group of self-professed "smarks", which boasts members spanning the entire United States, have been planning the event for months through phone calls, Google Hangouts, and Tout videos. Having collectively spent over $10,000 in tickets, WWE Axxess, travel, hotels, food, drinks, and merchandise, members have been practicing their various chants, designing signs, and coordinating bodypaint.
Group leader Adam Bird said of the gathering, dubbed "Smarkamania", "I'm so happy we've all come together for such a big occasion. This is the Showcase Of The Immortals! Once in a lifetime! People will be literally hanging from the rafters, just like Gorilla Monsoon said. But if things get boring or there's an outcome we don't like, we're going to raise Hell. And you better believe we'll be at Raw tomorrow too. Oh, can someone pass the sparkles and glue sticks? I want to make sure Randy Orton can see my sign telling him that he sucks. "
"One side of my sign is going to reference the Sid Vicious/Brian Pillman squeegee incident and the other side says 'I Love Texas Red'," said strip club waiter Terrance Pryor. "Let's see if any of these posers in the crowd know what I'm talking about. Probably not. Dorks."
"I can't wait to chant 'Husky Harris' at Bray Wyatt," said sandwich artist Kevin Silva, who was dressed exactly like Wyatt. "It's going to blow his mind! And I'm so going to yell 'Electric Saw' at Dean Ambrose. He'll get it."
"Da da! Da da da da dada da da da!" sang professional beer taste-tester Mike Brown, who has been communicating only via Fandago's theme song since last year's Monday Night Raw following Wrestlemania XXIX.
Editor-in-chief of Pop-Break.com Bill Bodkin said, "I know it's no Rock vs. Hogan, but I'm looking forward to Brock vs. Taker. I mean, the build has been awful, Taker looks a billion years old, Brock has been booked terribly and looks like a coward, and there's no CM Punk, but yeah, it'll be great."
"My girlfriend told me she would leave me if I came to New Orleans," said adult chatroom moderator Christopher Mounts. "Whatever, when Renee Young meets me, I'll have a new girlfriend anyway!"
"Diiiiiiivvvvaaaaaaasssss!" shouted already-drunk elementary school teacher Ezra Schwartz. He continued, "I looooooooove AAAAAAAAJAAAAYYYY…..We The People!" before throwing up inside a Wyatt Family sheep mask.
Antoinette Villegas, a systems analyst and the sole female member of the group, was wearing her custom Daniel Bryan "The Beard Is Here" t-shirt with an arrow pointing down from OneHourTees.com. She said "I've loved American Dragon for years. If he loses we riot. If he wins, it's just typical predictable WWE BS. I bet Triple H beats him in 17 seconds and then wins like his 40th title."
One member, though, was not as enthusiastic as the rest of the group. Julian Dimagiba, the bass player for Young Rising Sons, took a drag from his cigarette and shook his head. "Man, I don't know. WWE has got so much talent and they're wasting away in that stupid Andre battle royal. You know what would be better? A Ziggler vs. Cesaro Iron Man Match. Or how about have Sami Zayn debut? Every year, it's just the same old stuff and we still eat it up. We spend all this money and for what? Just kind bums me you, you know?"
Dimagiba looked off into the distance and thought deeply. He chuckled and a smile spread across his face as he said, "Well, maybe I'll get to spit on Batista. That'd make it all worth it."