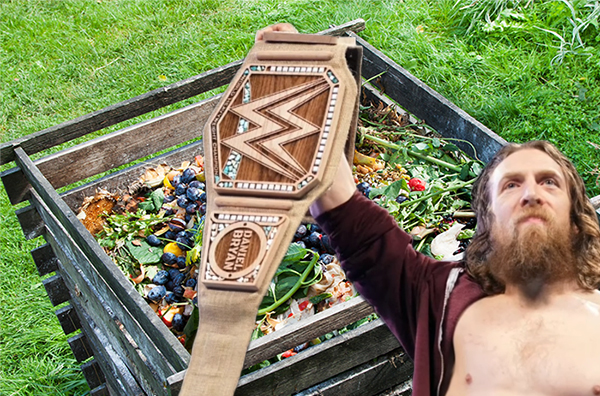 Aberdeen, WA – Following his title loss at Wrestlemania, former WWE champion Daniel Bryan has decided to recycle his championship belt.
Made from 100% eco-friendly organic hemp, naturally fallen oak, and naturally-sourced stones, Bryan's championship was a symbol of his environmentalism and rage against the greedy Baby Boomers and corporate machine.
"The loss is devastating, but I can't let my emotions effect the way I think," said Bryan standing atop his compost heap. "Mother Earth needs us and we need her. I can't just let these precious resources sit in a closet somewhere. No, it's time to rethink, reuse, repurpose, and return. Naturally, we're doing this in a natural way."
Bryan has removed the hemp from the belt and fashioned a new flannel top for his good friend and "intellectual equal" Erick Rowan. The stones were then used to create a sundial for a community garden. All the adhesive used to keep the belt together was melted down and turned into hair pomade. Finally, Bryan used the wood to create a tiny theme park for rabbits, squirrels, and other small woodland creatures.
The former champion looked upon his work and shed a single tear. He then captured the tear in a jar that he plans to use for pickling pesticide-free cucumbers.