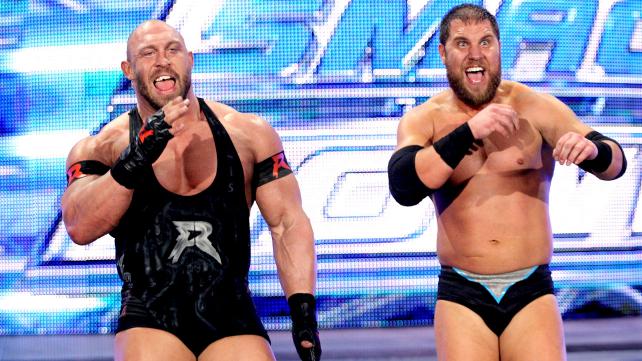 Philadelphia, PA – Prior to this week's taping of Smackdown, Vince McMahon held a meeting with Curtis Axel and Ryback to discuss a repackaging of their characters. McMahon, flanked by Triple H called the floundering tag team into his office and laid out his idea.
"Curtis. Ryback. We all know that things aren't really working out for both of you," said McMahon. "Ryback, you were given multiple main events on Pay-Per-Views. Curtis, you were given a run with the Intercontinental title. Both of you had Paul Heyman to do all of your talking. To be honest, it was all a miserable failure."
Axel shifted in his seat uncomfortably while Ryback ate an XXL Hungry Man Backyard Barbecue frozen dinner.
"Look, no one's blaming you guys," said Triple H. "Well, really, we're all blaming you. But that's okay, because we're going to tweak your characters. Something that will really send the RybAxel team to the top of the tag team division."
Axel breathed a sigh of relief while Ryback finished off a carton of Breyer's Apple Cinnamon Crumble ice cream.
"We're going to change the team of Ryback and Curtis Axel to, get this, 'The New American Males,'" said a beaming McMahon. "We're going to put you in suspenders and bow ties. You're going to be two hot sex-objects. The women will want you and men will want to be you!"
Axel tried to fight back tears while Ryback drank 2 liters of Pepsi Blue.
"Of course, we'll need to change your looks a little bit," said Triple H. "You both need to get earrings, wear some shades, and smile more. Curtis, you need to cut your beard, and Ryback, you need to grow out your hair. In fact, we can just paste Curtis's beard hair on to your head to save time. Let's see some of your  sexy dance moves."
Axel did a spastic version of The Monkey while Ryback robotically thrusted his pelvis.
"Pump harder!" barked McMahon. "Swivel those hips! You call that grinding? You both need to hit the gym. I want to see two human Adonises out there. For McMahon's sake, Ryback, put down that block of Velveeta cheese! You have to go on a diet, pal!"
Enraged by suggestion of a diet, Ryback began to smash the furniture in McMahon's office.
Trying to avoid a full-scale riot, Triple H said, "You can sing the theme song!"
Coming down from his sodium-infused rage, Ryback took a deep breath and belted out, "American! Males! American! Males! American! Males! American! Males! American! Males!"
"Perfect!" said McMahon and Triple H in unison while Axel clutched his legs and rocked back and forth in his chair.