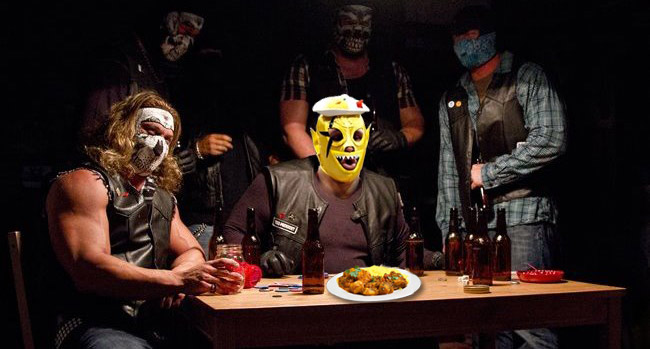 Orlando, FL – After months of speculation, the leader of the masked group known as Aces & Eights has been revealed to be none other than former TNA wrestler, Curry Man.
Believed to have been released from TNA years ago, Curry Man has quietly been amassing the powerful group stable for some time. Following the 5-star classic "Fish Market Street Fight", Curry Man reached formed an alliance with ex-Team 3D member Devon. Only now have the fruits of their partnership come to light. The group's spokesman and official taste-tester Taz said, "He's hot, he's spicy, he tastes great, and he's taking over! The big man from Japan has all the right moves and is ready to take us to Flavor Country! Your lips will burn, your eyes will water, and no amount of milk will take away the burn from Aces & Eights!"
The revelation has sent shock waves throughout TNA. "I am shocked," said an emotionless Dixie Carter. "Despite being TNA President, I'm not actually going to stop these violent assaults with deadly weapons. I think the best solution is to let them solve it like grown adults: by pinning their opponent's shoulders to the mat for 3 full seconds. Or maybe a 6-man X Division extreme rules on a pole match."
Shark Boy, Curry Man's former partner said, "Oh, shell no! This spicy bastard is dancing all over our friendship. These goofy bastards even stole my vest! Maybe it's time for ol' Shark Boy to strap on his boots and whip some Aces & Eights ass. Shark Boy 24/7 said 'I just bit your ass and it sure was spicy.' And that's the fishing line, 'cause Shark Boy said so!"
"It actually makes complete sense," said TNA legend Sting. "They wear masks, Curry Man wears a mask. They throw up 8 fingers to symbolize the eight spices used in Curry Man's curry. And I'm pretty sure DOC is a fantastic dancer."
Curry's Man's antics, which once delighted tens of people, are now a dark harbinger of things to come. His group's vicious attacks have put the wrestlers of TNA on edge, wondering what will happen next. Curry Man will make his return to the Impact Zone this Thursday. When asked what he and Aces & Eights have in store for TNA, Curry Man paused briefly before yelling, "Koooooooonnichiwaaaaaaa!" while dancing on top of a battered and bloody Samoa Joe.