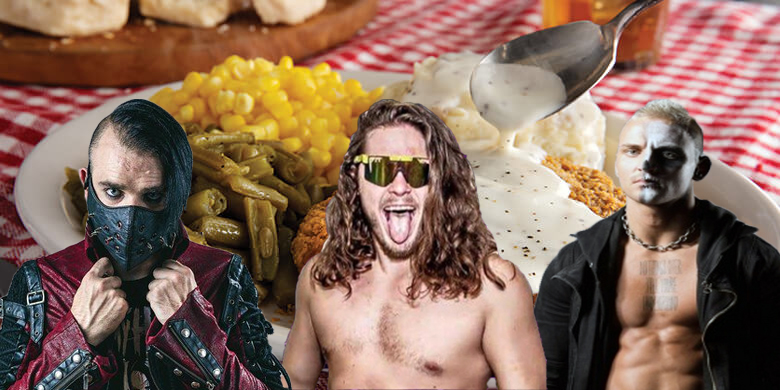 Chicago, IL – The "Cracker Barrel Clash" Triple Threat match held at this past weekend at All Elite Wrestling's "All Out" ended in a triple disqualification after all the participants were deep-fried and covered in Sawmill Gravy.
The match, dubbed the "Cracker Barrel Clash" saw Joey Janela take on Darby Allin and Jimmy Havoc. The back-and-forth battle saw all three competitors dish out a heaping helping of pain and destruction. Tables, chairs, and an actual barrel were all used, but it still was not enough.
The Homestyle destruction truly began when Havoc took two pieces of All-American Apple Pie and literally pie-faced Allin and Janella. Enraged by the no sugar added attack, Janella took pieces of Fried Apples and jammed them up Havoc's nose.
Not to be outdone, Allin jumped off the top turnbuckle and landed spine-first into a Grandma's Sampler plate. All three took turns stapling buttermilk biscuits to each other's forehead.
The crowd showed their approval of the culinary chaos with chants of "Please don't fry!" and "We want Double Fudge Coca-Cola Cake!" Bits of Chicken n' Dumplins and Rainbow Trout flew into the audience. They literally ate everything up.
Way above their daily caloric intake, the three combatants hit each other with bags of flour, seasoning, and eggs. Standing on the edge of the ring, all three simultaneously jumped off and fell into waiting fryers. Their screams of agony were silenced when members of the ringside crew poured soothing Sawmill Gravy on to their country fried bodies.
The bout ended in a no-contest. Officials could not decide if they should be taken to the hospital or served with three country sides.