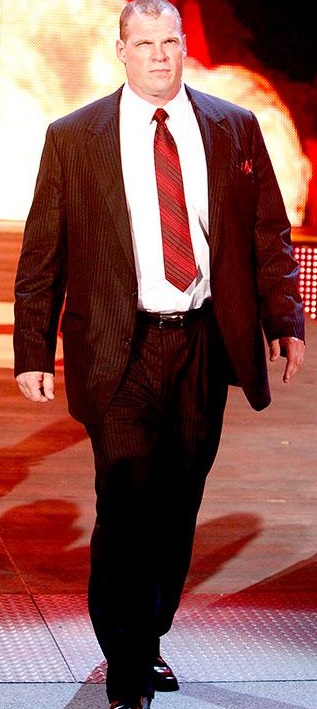 Stamford, CT – Corporate Kane spent the first day as WWE's new Director of Operations getting acclimated to working in the corporate world of professional wrestling.
Formerly known as The Big Red Monster, Kane woke at 6:30am to prepare for his first day at Titan Towers. After a quick shower and shave, Kane put on his freshly-pressed Jos A. Bank power suit and Brooks Brothers tie in lieu trademark mask and red-and-black attire wrestling attire.
The Devil's Favorite Demon then embarked on the 35-minute commute in his red Prius to Stamford, stopping briefly at Starbucks to pick up a grande Gingerbread Latte and a Petite Vanilla Bean Scone. He made sure to Instagram a picture his hilariously misspelled name on the cup, "Katie".
Properly fueled, Kane arrived at Titan Towers at 7:50am, giving him a few minutes to prepare himself for his first day.
"You'll be okay," assured Kane, looking in his rear-view mirror. "They picked you for the job which means they're confident in your abilities. You've been here a long time and they're finally rewarding you. You are what's best for business. You're great, you're wonderful, and doggone-it, people like you."
Kane spent the better part of his morning with Susan from HR, signing non-disclosure forms and learning about WWE's various work practices. After getting his computer and email setup with the help of Chad from IT, Kane spent several minutes trying to leave a proper-sounding voicemail message. He also ran into the Brooklyn Brawler at the water cooler, exchanging small talk about the Nets game the previous night.
At lunch, Kane sat with Tommy Dreamer and enjoyed a tuna fish sandwich, a handful of Cheez-its, and a Diet Dr. Pepper. Dreamer explained the ins and outs of the corporate world, telling Kane who to avoid and which vending machine has the best candy.
In the afternoon, Kane worked on several spreadsheets, inputting data from various wrestling sources and cross-referencing them to WWE's database. With the help of his unpaid intern, Kane created a PowerPoint presentation mapping the progress of several NXT prospects since the opening of the new training center in Florida.
Around 2:15, Triple H came by Kane's desk, coffee in one hand, sledgehammer in other, to check in with Kane.
"Hi Kane, what's happening? Everything going okay? Great. Umm, I'm going to need you to come in on Saturday, so if you could be here around 9, that would be great. M'kay?"
At the daily team meeting, Kane struggled to stay awake as Stephanie McMahon explained the companies projected first-quarter market shares. He pretended to take notes on his pad while constantly checking his watch to see if it was 4:30 yet. At the end of the day, Kane made the long trek home, sitting in traffic for close to an hour.
Finally arriving home, Kane threw a Lean Cuisine in the microwave, laid down on his couch with his Lhasa Apso Torchy, and put on a Seinfeld re-run. He sighed and said, "Well, it's not all 'Handing chairs to Randy Orton and making matches with Brad Maddox', but I'm on the way up. With some hard work, maybe in two or three years I can become 'Middle-Management Kane'. Or maybe Stephanie has a sister I don't know about."