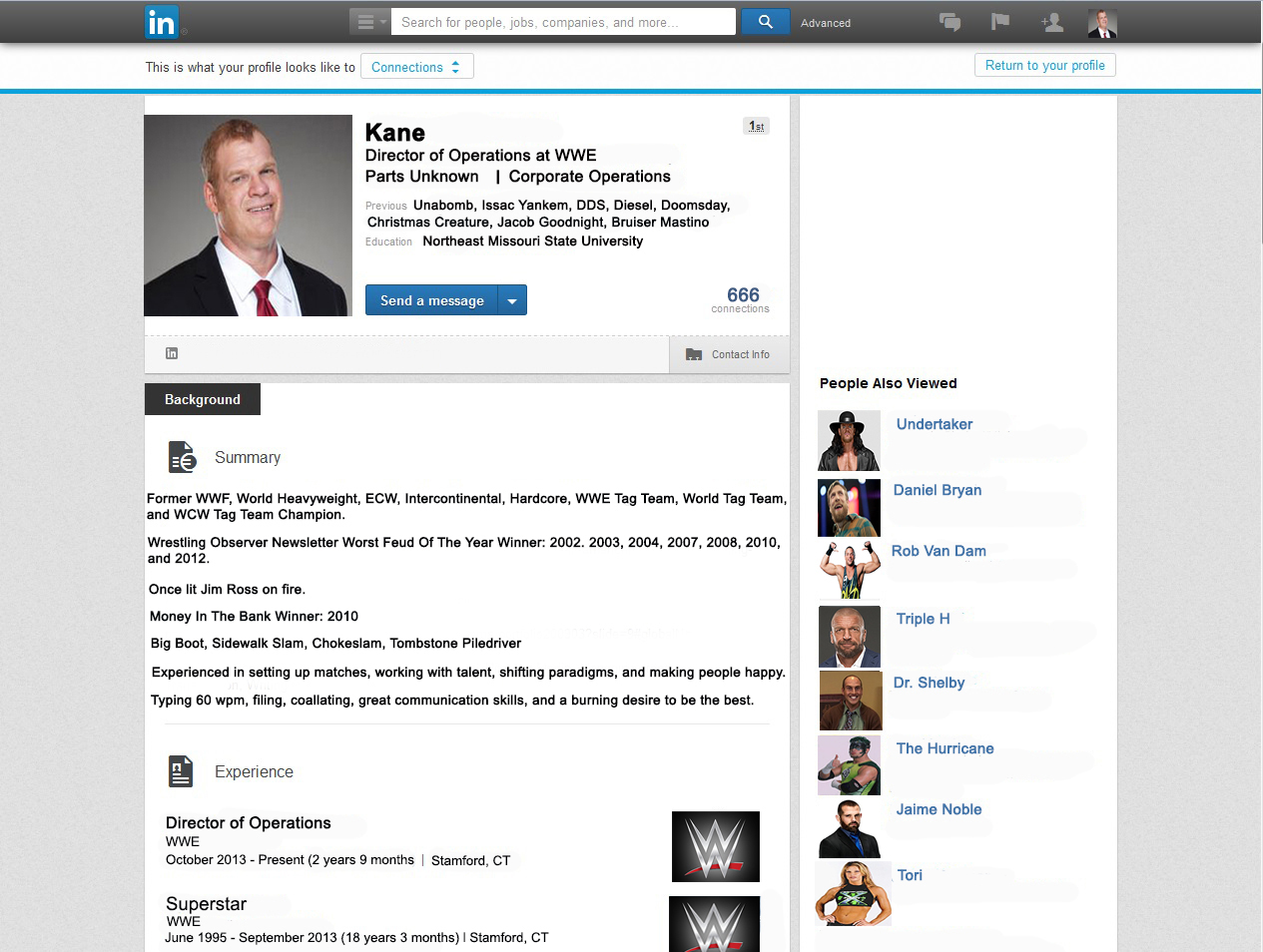 Stamford, CT – After handing his resume and letter of recommendation to Stephanie and Shane McMahon in order to become the head of Smackdown, Kane decided to update his LinkedIn account just in case either McMahon was going to look.
As the sun set over his 2 bedroom townhouse, Kane opened up his laptop while his two dogs, Torchy and Charcoal, played with a rope toy he had purchased at Petco. Several attempts to login in proved to be fruitless and Kane had to reset his password, finally settling on "B1GR3DM4CH1N3".
"I won't forget that one!" chuckled Kane as his oven's preheat alarm went off. He put a rotisserie chicken inside the oven along with roasted potatoes and asparagus and went back to work.
"Oh, boy," said Kane, adjusting his glasses. "Looks like I haven't updated this in a while. Let's see…I should add something about having interpersonal communication skills. Steph will love that. An energetic spark. That one's for Shane. Hmmm, what else?"
Kane's mind wandered as his attention was drawn to the "Law & Order" episode playing in the background. He exchanged a few texts with Tommy Dreamer before refocusing.
"I should probably get rid of all these references to torturing and killing people," reflected Kane. "That's not good for business. Instead of 'burn down houses' I'll say 'motivated leader'. Instead of 'watch the life leave my enemy's eyes' how about 'a proven closer'. Yeah…yeah, this is great!"
Kane hit submit and then removed his dinner from the oven.
"I've got this thing in the bag," said Kane confidently. "I'll bet Teddy Long doesn't even have a LinkedIn account. Probably still stuck on MySpace!"
That night, Kane drifted off to sleep with thoughts of making matches on Smackdown and lighting Tyler Breeze on fire.