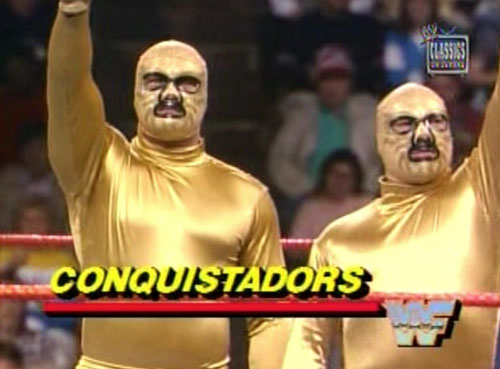 June 20th, 2013, Dumpwater, FL —
WCNewz was on hand last night for an Indy Event, where the Tag Team known as Los Conquistadors continued not living up to their name.
For more than a quarter of a century, multiple wrestlers have worn the gold bodysuit/mask combo, wrestling in losing efforts in Japan, New Zealand, Mexico, the US and other locales across the globe. They were most famous for their losing-ways in the WWF, circa 1980's.
But in all that time, Los Conquistadors have summarily failed to conquer any territory, government or opponents, save for a shocking Canadian house show victory over the Fabulous Rougeaus back in 1989 and as a surviving Team at the 1988 Survivor Series, alongside the more-formidable Powers of Pain.
When our WCNewz Reporter asked if they had ever considered changing their in-ring, Tag Team moniker, #1 responded with a grunt, while #2 said, "Que?"
Los Conquistadors were then called into the ring and beaten in 45 seconds, extending their reign of nothing conquered, nothing gained.