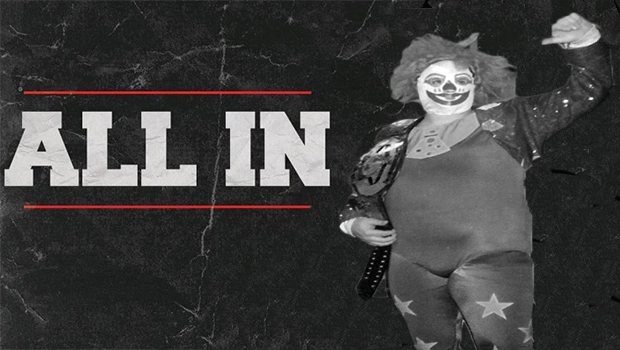 Chicago, IL – Wrestling fans were stunned yesterday when Cody Rhodes announced that he would be facing WWF legend Doink The Clown in the main event of All In.
All In, an independent wrestling event put together by former WWE star Cody Rhodes, has received incredible amounts of attention. Kenny Omega, The Young Bucks, Marty Scurll, and Rey Mysterio will all be participating. For weeks, speculation has run wild as to who would be appearing in the main event. Many suspected that former WWE champion CM Punk would make his pro-wrestling return in the main event against Rhodes himself.
"We needed real firepower to make All In a night to remember," explained Rhodes at the All In press conference. "Rather than go with some hotshot new guy, I decided to go classic. Who better to do that than an absolute legend like Doink the Clown? Everyone remembers Doink! He'll do the Whoopee Cushion, hit wrestlers with casts, and splash water on fans. It will be epic!"
When asked how the booking was made, Rhodes said, "I got a direct message on Twitter from Doink himself. I was surprised that he only had 23 followers and had a Twitter egg avatar, but I couldn't say no. I've wanted this match ever since I was a little kid."
Over the past few years various "Doinks" have appeared on independent wrestling shows throughout the country. Rhodes seemed unconcerned as he introduced his opponent.
A portly man in sloppy clown makeup stumbled to the conference table.
"Dork The Clown is ready to rumble to ready!" burped Doink. "Just point me to the ring and tell me which rest hold to use. Oh, Cody, can you make my check out to 'cash' and put today's date on it? Thanks."
The initial reaction from fans has not been positive.
"What?!" exclaimed die-hard wrestling fan Bryce Hawerchuk after hearing the news. "I just bought 4 front row tickets! This investment is worse than that time I signed up for Global Force Gold!"
"Ted DiBiase Jr. will be under the Doink costume and they're going to reform Legacy!" declared Melody Lumpe. "That's the only possible explanation for why this is happening!"
"I'm only going if Dink, Wink, and Pink show up," said Sterling Fripp, referring to Doink's Survivor Series teammates.
"Finally, a match I care about!" said Reddit user VRuBro.
Before ending the news conference, Rhodes reminded fans that tickets were non-refundable.