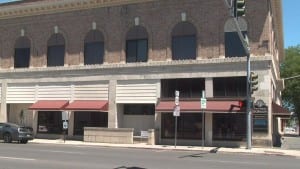 Twin Falls, ID – Only 34 fans were in attendance for Powerful Stars of Wrestling's second annual 'GrappleCrush' event at Historic Ballroom, with one voice ringing above the rest.
Quinn Daggler, 25, of neighboring Meridian, ID, attended the six-match card with a friend, and expressed his displeasure with the quality of the event.
By the third bout, featuring Frederick 'F-Him' Himmler taking on The Canadian Gangsta, Daggler began chanting for retired WWE icon CM Punk during a prolonged chinlock.
"These people should know better than to rip off the ticket-buying customer with low quality wrestling," explained Daggler. "I bought my ticket, so I have every right to chant for something that the show-runners have no capacity to deliver. It's within my rights."
Daggler continued his rampage, tormenting Tag Team Champions The Masked Embolisms in their match-up with Ronnie Darko and "The Killer President" Rutherford B Slays. Even after the Embolisms landed their crowd-pleasing finisher, The Clot Shot, on Darko, Daggler screamed for Punk at the top of his lungs, over the cheers of 33 other spectators.
"Hey, no Punk, no dice," Daggler sniped. "I don't care if he's in UFC now; I just want the show to be better than it is, and I'm not alone in thinking that chanting for a man that's sworn off professional wrestling is a key to its turnaround."
Daggler was asked by the promoter and security personnel to leave the building before the main event, to which the remainder of the crowd chanted "YES!" while pointing skyward with rhythmic arm thrusts.
"Stupid marks," said Daggler after. "Don't they know Daniel Bryan doesn't work here?"