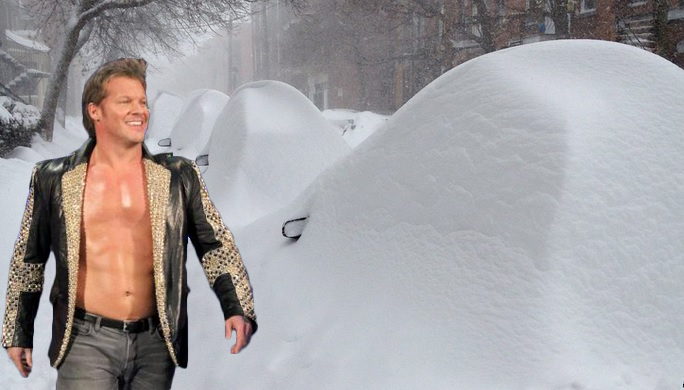 New York, NY – Going against several warnings from various members of the medical community, WWE Superstar Chris Jericho continues to not wear a shirt in public.
Over the past few weeks, Jericho has been appearing on RAW and Smackdown in his trademark jacket, but without a shirt on underneath it.
"I warned him about the dangerous of prolonged skin exposure to low temperatures, but he just wouldn't listen," said Dr. Omar Vargas. "I said 'Chris, you are at an incredibly high risk for getting frostbite on your nipples.' He just smiled at me and belted out a few lines of the Saxon song 'Princess Of The Night'."
Others have also taken notice of Jericho's top-challenged behavior.
"Yeah, I guess it was a little strange that he wasn't wearing a shirt during our appearance on his podcast," said New Day member Kofi Kingston.  "We see worse in the locker room anyway. Far worse," said Kingston with a shudder. "At least he sometimes puts a vest on."
"Things got really sour when Jericho decided to feel the power…by which I mean rub baby oil all over his chest," said Big E. "It's a podcast! No one was even seeing him do this. Total 100% pure booty."
"He's just trying to get into my head and intimidate me," said Jericho's new rival, AJ Styles. "Well, let me tell you something, Jericho. You can't intimidate someone who was in Vince Russo's S.E.X. stable!"
Despite temperatures in much of the country dipping to dangerous levels this past weekend, Jericho was seen walking outside in nothing but an open jacket and a pair of tight jeans.
"The Ayat-t-tollah of r-r-r-rock and rolla doesn't think he has a p-p-problem," shivered Jericho. "A s-s-s-sexy beast doesn't n-n-need a shirt! Oh, n-n-n-o! I think there's f-frost in my belly b-b-button."
Jericho was rushed to Beth Israel Hospital and, after briefly struggling with nurses and orderlies, was placed in several t-shirts and a restraining Snuggie.