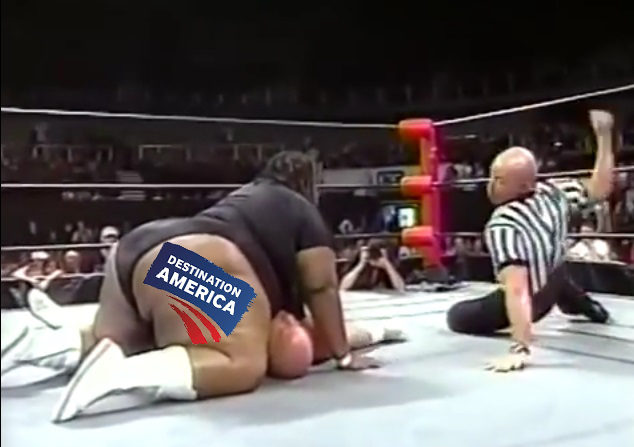 Battleboro, NC – Dixie Carter and various TNA officials spoke at a news conference yesterday, revealing the return of a wrestler that they believe will help save the company. Reporters gathered inside a local Waffle House to hear the news.
"Ya'll, I don't even know what you're talking about," said Dixie in regards to news that TNA is being canceled. "Destination America loves us. Just because they moved us to Wednesdays doesn't mean anything? Neither does taking away all of our other programming. That's just silly. Silly silly silly silly silly silly. Silly."
"We totally don't need saving!" said Executive Vice President John Gaburick. "And I'm totally not leaving to be on the next season of Tough Enough."
"Nope nope nope!" added Carter. "We've got Billy Corgan who's going to be doing some writing and Twitter fighting. Plus, we've got another huge announcement to make: TNA is proud to welcome back an alumni from our early years! You know him. You love him. And he is going to help save TNA…not that we need saving."
The gaggle of fans and reporters murmured with anticipation. Many believed that the returning wrestler could be Teddy Hart, Monty Brown, or even CM Punk. One, despite the pronoun "him" still thought it was Lacey Von Erich.
"Ladies and gentleman, please give it up for one of two participants in the very first TNA match ever, Cheex!" shouted Carter.
Only the sound of plates clanking and food cooking broke the deafening silence of the group as the over-400-pound man waddled to the microphone. Joined by what appeared to be a nurse, Cheex's labored breathing was picked up on several microphones.
"How will your skills help TNA continue?" said one reporter.
"Hashbrowns. Smothered." said Cheex.
Confused, another reporter asked "Who will your first match be against?"
"Texas Bacon Chili Melt." said Cheex.
"Where do you see TNA in 6 months?" asked a third.
"Waffles. Ham. Raisin Toast. Grits. Iced Tea." said Cheex as his nurse wiped the sweat from his brow.
"There you have it folks," said Carter proudly. "Waffles. Ham. Raisin Toast. Grits. Iced Tea. TNA. I think that says it all, don't you?"