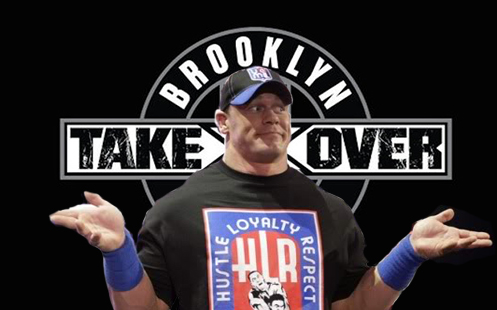 Brooklyn, NY: In what has been labeled an "epic disaster" by WWE, irate John Cena fans ruined NXT: Takeover this past weekend in Brooklyn.
The usually boisterous NXT crowd, known for their various chants and love of all things NXT, was nowhere to be found at the event. A rainbow of colored Cena shirts filled the crowd, replacing the usual Kevin Owens, Bayley, and Sami Zayn shirts.
The special event, which was pegged as NXT's biggest event to date, got off to a rocky start during the NXT Tag Team championship match between The Vaudevillians and Blake and Murphy. The high-energy match was met with an uncomfortable silence. Chants of "Boring!" and "You can't see me!" echoed during the Samoa Joe vs. Baron Corbin match.
Jushin "Thunder" Liger, a legend of Japanese wrestling making a special appearance at the event, was seen crying through his mask backstage.
WWE officials knew something was wrong when the crowd sang John Cena's theme song during the entirety of the NXT Women's Championship match. Things came to a fever pitch during Finn Balor's entrance. The orchestral swells were greeted by the crowd singing "Ceeee-na! Ceee-na!" The championship match between Balor and Kevin Owens, while technically sound, could not overcome the hostile crowd. Every counter and dazzlingly move was met with deafening chants of "We want Cena!"
The event ended on an even more sour note as NXT head Triple H went to the ring. His plea for sanity from the crowd was met with a barrage of John Cena wrist bands, pendants, and replica title belts. He is listed as day-to-day and is expected to make a full recovery.
Wrestling Observer's Dave Meltzer, normally reserved in his reviews of events, simply described NXT: Takeover as a "catastro-fuck".