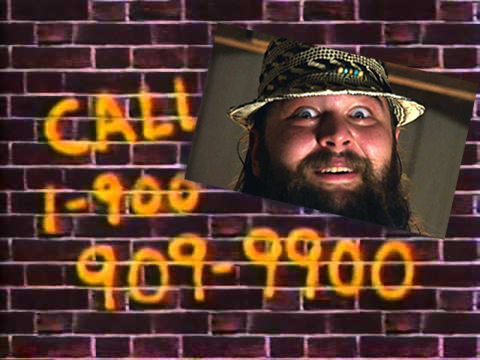 Brooksville, FL – Bray Wyatt has launched his own 900 hotline where wrestling fans can hear from their favorite WWE Superstar.
Much like WWE and WCW personality "Mean" Gene Okerlund's hotline from the 1990's, fans will be able to call the hotline to hear all about Bray Wyatt. While the main focus will be on news and upcoming matches, fans will also be able to gain deep insight into the enigmatic cult leader.
A pre-recorded message by Wyatt greets the caller, stating, "Dearest minion. It is I, the Eater of Worlds, Bray Wyatt. My deepest and most sincerest thanks to you. Since you have searched deep within yourself and come to the inevitable conclusion that you want, no, need to hear all about me, please enter your credit card number, expiration date, and the pound sign. It only costs $1.99 per minute to embrace the void. Kids get your parents permission."
Callers are then given multiple options. Press 1 for Bray Wyatt news. Press 2 to hear a Bray promo. Press 3 to hear Bray sing "He's Got The Whole World In His Hands". Press 4 to hear Bray read from the daily newspaper. Press 5 to get fashion tips from Bray. Press 6 to hear Bray say words that rhyme with "Bray" and "Wyatt". Press 7 to hear about Sister Abigail. Press 8 for beard and grooming tips from Bray. Press 9 to repeat the options.
Plans to talk directly with Bray are still in the beta stage following a testing incident in which "Bray" referred to himself as "Jay Wiand" and told listeners to "Follow the Buzz Aldrins".