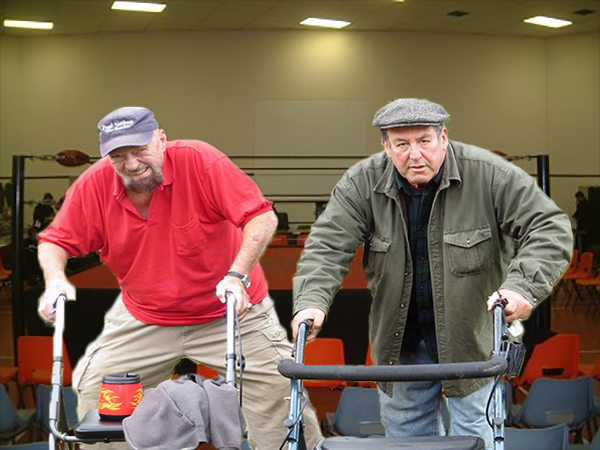 Rutland, VT – Wrestling legend Paul "Butcher" Vachon has come out of retirement and returned to the ring for one last shot at championship gold. Vachon, most famous for winning various tag team championships with his brother Maurice "Mad Dog" Vachon, has been having tag team matches on the independent New England wrestling scene.
While many are surprised that Vachon would return now, he explained, "We veterans need to teach these kids the old ways. Traditional wrestling moves, tough ring psychology, and respect. No more of this flippy stuff and then being nice to each other on the internet."
Joining the 80-year-old is his longtime friend "The Cheapest Man In America" Roy Haynes. Though Haynes does not have any professional wrestling experience, his knowledge of stretching a dollar has come in handy. The duo, dubbed "Cheap Heat", has been tearing up the indies without spending a dime.
"It's been a great experience," said Haynes, shoving free ketchup packets into an oversized coat. "Butcher takes them out and then I remove the laces out of their boots or the tape off their wrists. I don't want them or need them, but now I have them just in case. Plus, we get free exercise, free food and drinks. Sometimes we get to keep anything in the lost and found after the show!"
Although he retired many years before most of his competitors were even born, Vachon still remains as strong and crafty as ever.
"I pretend to drop my glasses in the ring and when my opponent goes to pick them up, I hit them over the head with my walker," laughed Vachon. "They cannot do the flips and dropkicks then, huh?"
"I just wasn't ready for them," said independent wrestler Robbie Rocket. "All the punches and kicks were just too much. Once they threw expired coupons in my face, that was it. They took my pride and all the napkins from concessions that night."
While some suspect that the duo is simply robbing naïve competitors, Rutland sheriff Stephen Bernard dismissed concerns.
"At this time, we are not investigating the tag team," said the sheriff. "There's nothing in the rulebook that says they can't do this stuff. As long as they're not performing any piledrivers, my hands are tied."
It is rumored that Cheap Heat may be appearing in NXT. They are currently "liberating" enough gas from their competition's cars to get their RV to Florida.