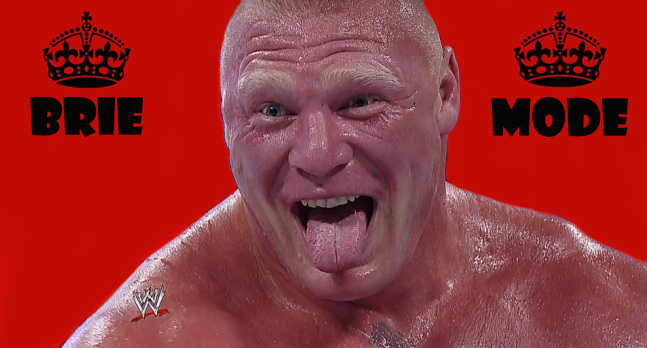 London, UK – Former WWE World Champion Brock Lesnar, known for his intense shocked the live audience on Monday night by accidentally going into "Brie Mode".
Brie Mode, while not in Webster's dictionary, comes from WWE Diva Brie Bella's raucous and sometimes destructive behavior while drinking and partying. During an in-ring promo with his advocate, Paul Heyman, Lesnar grabbed the microphone, saying, "London. I'm here. You're here. Let's…get…waaaaaaaasted!!!!"
Lesnar then tried to lead the crowd in a half-hearted "Yes!" chant before clumsily falling out of the ring and giggling to himself. The normally loud UK wrestling audience sat in stunned silence as Lesnar blew kisses to the crowd and mimicked Brie Bella's theme music by screaming "Briiieeeee moooooooooooode wubwubwubwub!"
After Raw, Lesnar took a luxurious bubble bath and sent multiple inappropriate text messages to Daniel Bryan before hitting up several London night spots with Summer Rae, Eva Marie, and Cameron. The group partied late into the night, getting ejected from a club after Lesnar started dancing on the tables and breaking them.
Lesnar was last seen twerking against Big Ben.