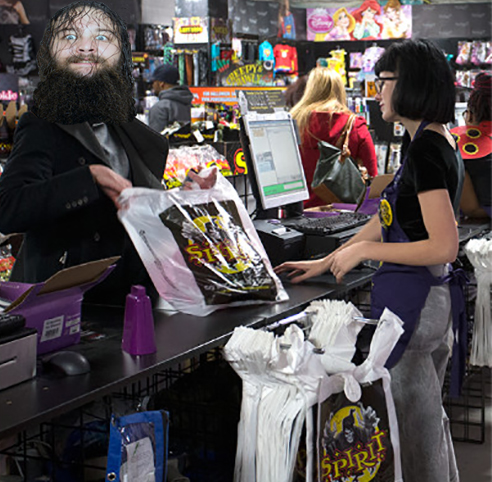 Zephyrhills, FL – WWE Superstar Bray Wyatt attempted to return Halloween decorations to his local Spirit Halloween store to no avail.
Wyatt walked into the Spirit Halloween store and placed a box full of Halloween decorations and other assorted items on the counter.
"Yes, ahem, I would like to return these items," said Wyatt, squinting at the worker's name tag. "Can I do that, Karen?"
"I'm sorry, sir, but we do not accept returns after October 31st," said Karen. "The store is only open a few more days for clearance and then we pack up until next year."
"Oh, well, I actually didn't get these for Halloween," said Wyatt. "See, I was supposed to have this awesome wrestling match against Finn Balor a few days before Halloween and then I got sick and couldn't use them."
"What do fake tombstones, a fog machine, cotton spider webs, 5 gallons of fake blood, a collapsible coffin, a plastic devil pitchfork, and a glowing skull have to do with wrestling?" asked a confused Karen.
"Well, yeah, when you put it like that it sounds kind of silly," laughed Wyatt. "You have to know the complex and well-planned background to really understand."
"And what part of the background involves a giant Minion with Pumpkin inflatable?" asked Karen.
"Look, my boss won't reimburse me for this stuff. Could I just get like a gift card or store credit or something?"
Karen sighed.
"Okay, you seem like a nice guy. Just give me your receipt and identification and I will help you out."
"Great. Thank you so much. Here you go," said Wyatt while handing her a crumpled piece of paper.
"Oh, I'm sorry, sir. I can't give you a refund because these items were purchased by someone named 'Sister Abigail'."
"That's…ummm…I'm…okay, you're going to laugh, but I am Sister Abigail," said Wyatt sheepishly.
"Is this one of those 'background' things again?" asked Karen incredulously.
"I'll…I'll just go," said a defeated Wyatt who then drowned his sorrows in cinnamon sugar pretzel nuggets and lemonade from the Auntie Anne's next door.