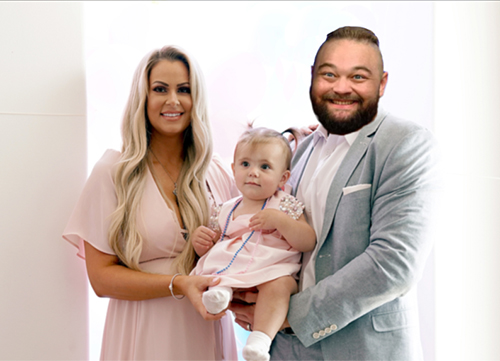 Thousand Oaks, CA – Following his triumphant win at TLC, Bray Wyatt will now be spending Christmas with The Miz's family.
Per the terms of their match at the most recent Pay-Per-View, WWE Universal Champion will now be celebrating the holidays with Miz's wife Maryse and their children Madison and Monroe. Miz, who stated it was the most important match of his career, must vacate his home by the end of business today.
"Oh, we're going to have so much fun!" exclaimed Wyatt packing his bag. "We're going to play games, sing carols, and watch Christmas movies! Once the kids go to bed, I can even show Maryse the extended version of the Muscle Man Dance, if you know what I mean. Yowie wowie, what a Christmas Bounty!" said Wyatt with a wink.
"At first, I was a little concerned. You know, with Bray being a dangerous psychopath and all," said Maryse. "But after talking with him over the phone and receiving the lovely Edible Arrangements he sent, I think this will be great."
Despite the initial awkwardness, The Miz's family has already accepted Wyatt as one of their own. Madison and Monroe have already starting calling him Papa. The Miz's dad has even filed paperwork to legally adopt Wyatt.
For the holidays, The Miz will be staying at the Firefly Funhouse. He has already reported having night terrors and found Ramblin' Rabbit hair in his mouth.