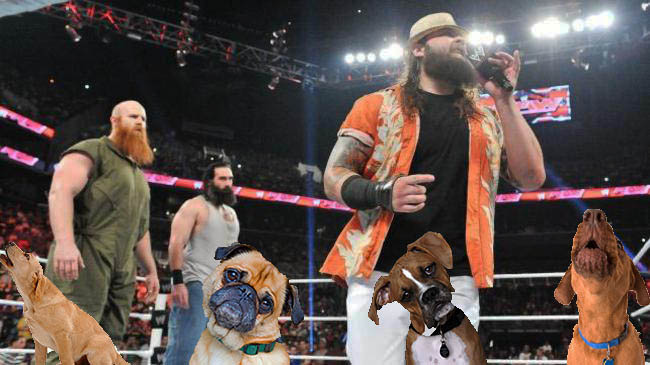 Miami, FL – Following his loss to Chris Jericho at Battleground, Bray Wyatt directly addressed the crowd during Monday Night Raw. Unfortunately, Wyatt's voice was so quiet that only dogs were able to hear it.
Wyatt, famous for his unique promo style, tries to draw viewers in with by speaking softly and using a varied vocabulary. In recent weeks, his promos have grown quieter and quieter in hopes that the audience would forgo their typical short attention-span. At one point, Wyatt was so inaudible that, for the first time ever at a WWE event, chants of "What?" were meant literally.
"I usually have a hard time understanding what Wyatt is usually saying, but this was different," said Mario Castro, who was in attendance. "I don't think I missed anything important, though."
Humans weren't the only ones having trouble with Wyatt's speech as reports of barking and whining dogs were reported throughout the country.
"It was incredible. One minute everything was quiet and I'm watching Raw like I usually do, the next, all the dogs were going crazy," said Sandra LaChance, owner of the Yellow Dog kennel in Sante Fe, New Mexico.
"We've gotten several complaints of loud dogs throughout the community," said Sgt. Bowe Dillion of the Portland, Maine police department. "We ask that everyone watching WWE programming to mute their televisions during all Bray Wyatt promos. It's the only way to be safe."
"Awoooooo" said Wiggles, a French Bulldog from Reno, Nevada.
"Ruff! Ruff! Ruffruffruff," said Barkus Bagwell, a beagle/dachshund mix from Ajax, Ontario.
Wyatt issued a formal apology during Main Event. Unfortunately, it caused several cats to scratch their owners, claw at furniture, and run under the bed.