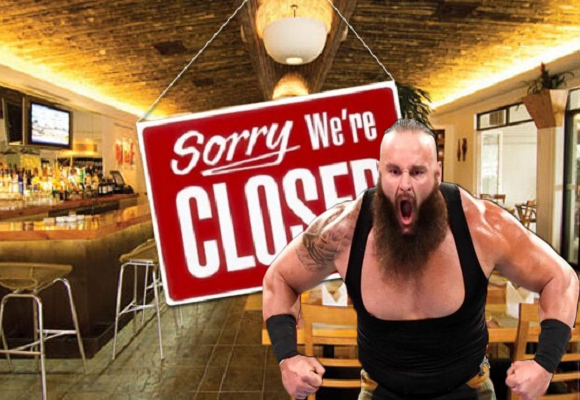 Little Rock, AR – WWE Superstar Braun Strowman's quick meal at the BBQ Barn after Monday Night Raw, unintentionally lead to the restaurant closing forever.
"Whenever WWE is in town, we like to keep the place open late since the boys like to stop in after the matches," said BBQ Barn owner "Big" Bob Sprucky. "A little after 11 o'clock, Braun Strowman came waltzing in. We fixed him his usual plate of brisket, pulled pork, pulled chicken, ribs, smoked turkey legs, chicken-fried steak, steak-fried chicken, chicken-fried chicken, steak-fried steak, burnt ends, corn, green beans, baked beans, coleslaw, mac & cheese, and a side salad. It wasn't enough."
Famished after his match, Strowman demanded more food.
"We cleaned out all the smokers, steam trays, and the walk-in freezer" said Sprucky. "We thought he was finally done around 2am, but then he let out a huge belch and kept going. He even ate the decorative flowers on the table and a can of shortening. 'Tis no man. 'Tis a remorseless eating machine."
After eating every food item and one napkin in the restaurant, Strowman patted his enlarged belly and said, "Ugh. I am such a fatass. I'm going to be 'The Monster Among Toilets' in a couple of hours."
The food shortage caused be Strowman's insatiable appetite has forced BBQ Barn to close its doors.
"There's nothing left, so we have to close until our food delivery next week," said Sprucky. "This is just like the time The New Day went to the old IHOP across the street."