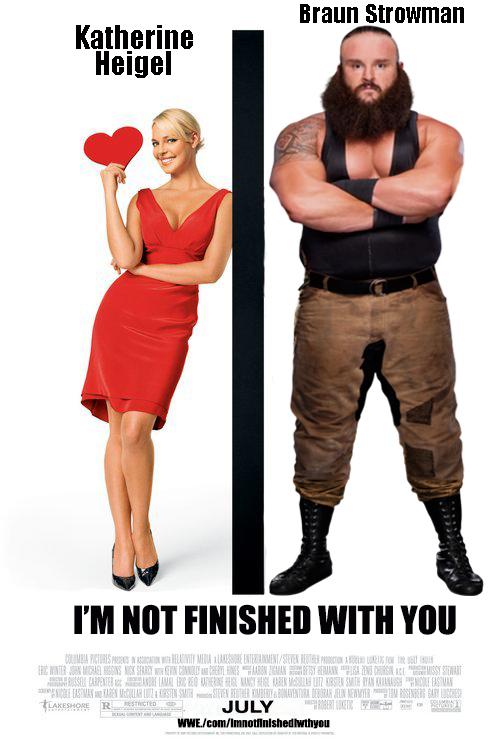 Hollywood, CA – WWE Studios announced that their latest movie will feature WWE Superstar Braun Strowman in the lead role of their new romantic comedy, "I'm Not Finished With You".
Strowman, whose popularity has risen in recent months thanks to being portrayed as an unstoppable monster, will be taking on the role of Biff Strongman, a professional wrestler that is a monster in the ring and a sweetheart out of the ring.
His love interest in the movie will be the star of Grey's Anatomy and Knocked Up, Katherine Heigel. Heigel plays uptight and overall unpleasant sports reporter Susan Plex. After messing up a story that causes the local sports team to lose the championship, Plex is demoted to covering professional wrestling. Soon, she comes to appreciate Strongman and the wonderful world of wrestling.
"It's actually an interesting story about how this movie came about," said WWE CEO and the movie's writer Vince McMahon. "I was looking at a breakdown of our demographics and screamed 'What do women want?!'. That caused my Alexa that Stephanie got me for my birthday to list all sorts of things. Makeup, clothes, that sort of thing. I yelled 'Alexa, what do men want to shut up?' and Heigel's name popped right up. A weekend holed up in a hotel room with nothing to eat but protein shakes and Marie Calendar chicken pot pies and voila! Pure cinematic gold."
"It's really a beautiful story," said Strowman. "It's nice to be able to stretch my acting abilities. I'm actually an incredible dancer and can't wait to shoot the scene where my elaborate dance moves win back Susan's heart. I'm going to smooch her so good!"
"I endorse this movie and/or product," said a letter provided by Heigel's agent.
"It's a tale of love, loss, and leglocks. I came up with that tag line myself," said Strowman proudly.
While there are no plans yet to release "I'm Not Finished With You" in theaters, WWE officials have said that the movie will be shown on all Southwest Airlines flights.