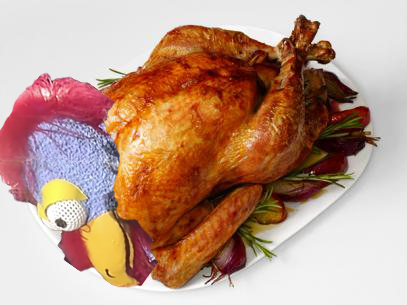 Houston, TX – After competing in the traditional 5-on-5 Survivor Series Elimination Match, Braun Strowman invited WWE legend the Gobbledy Gooker to Thanksgiving.
Over the past few years, the two have struck up an unlikely friendship as the Gooker has taken Strowman under his wings in a mentoring role.
"The difference between NXT and the main roster is huge, and when I first got here, I was a bit lost," said Strowman. "I'm so lucky the Gooker reached out in those early days. I probably wouldn't be where I am now without him."
"I'm so happy when I can help the young kids," said the Gobbledy Gooker. "It's good to help guide them along, y'know? Being a successful wrestler isn't a turkey trot. It's not all long nights and hot chicks. You don't want to ruffle any feathers, but you still want to showcase your moves."
"Inviting ol' Gobbledy to Thanksgiving was the least I could do," said Strowman. "He's done so much for me and he deserves to be a good home-cooked meal…I mean, he deserves to eat a good home-cooked meal."
"It's going to be quite a feast: yams, green beans, stuffing, cranberry sauce, and pumpkin pie. I'm using an old family recipe for that one. The secret ingredient is love," said Strowman with a wink. "Gobbledy doesn't need to bring anything. He deserves the rest. I'll even let him use my personal sauna."
"For how long?" asked the Gobbledy Gooker.
"Oh, roughly about 15 minutes per pound," said Strowman, licking his lips.