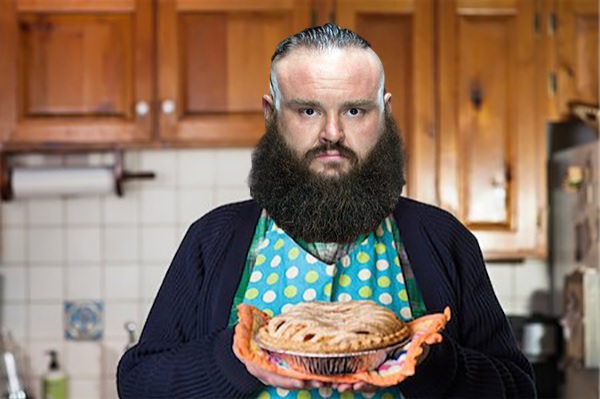 Ontario, CA – Following last night's brutal championship match at No Mercy, WWE Superstars Braun Strowman and Brock Lesnar have vowed to continue their feud.
Strowman, living up to his "I'm not finished with you" mantra, issued another challenge to Lesnar directly after the conclusion of their match.
"You're not man enough to face me again, Lesnar!" barked Strowman. "Week after week I've shown the WWE Universe that you're nothing but an overgrown child. Well now it's time to man-up, Brock. It's time to find out if you have the stomach to take me on one-on-one. Do you have the guts? The intestinal fortitude? The reflexes to deal with reflux? That's right, I'm challenging you to a pie-eating contest!"
WWE officials have been scrambling Monday to find a local bakery to provide enough pies for the two behemoths to consume.
"Apple, blueberry, cherry, pumpkin, strawberry rhubarb, key lime, pecan, sweet potato, peach cobbler, we need it all!" shouted Vince McMahon during WWE's pre-Raw meeting.
"What about cream pies, Vince?" asked Kevin Dunn to the shudders of many in attendance.
"I want it all!" commanded McMahon. "Oh, um, maybe no meat pies for Brock. We don't want to give him tummy problems."
To ensure a good, clean pie-eating contest, both Superstars will be covered in a tarp and Lesnar's advocate Paul Heyman will be placed inside a shock cage and suspended above the ring.
"Revenge is a dish best served a la mode!" laughed Strowman before wrapping a bib beneath his beard.