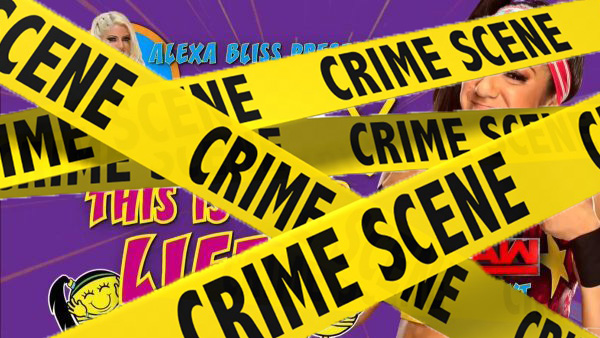 Greenville, SC – The Greenville Sherriff's office has declared the "Bayley: This Is Your Life" segment from last week's Monday night Raw a crime scene. The segment, in which WWE Superstar Alexa Bliss mocked Bayley, was universally panned by both the live audience and fans at home.
As WWE's crew was breaking down the ring, Sherriff Marvin Talty arrived with ten deputies and ordered a full stoppage of work.
"Ladies and gentleman, by the governor's orders, I am here to declare the "Bayley: This Is Your Life" segment an active crime scene," declared Talty. "Stop what you are doing right now and give statements to one of my deputies."
One officer began unrolling yellow police caution tape while another dusted for fingerprints.
"Hold on, just a minute here," said WWE television producer Kevin Dunn. "What crime has been committed here."
"Sir, please calm down or I'm going to have to tase you," said Talty. "That segment is being charged with multiple counts of homicide, attempted homicide, manslaughter, attempted manslaughter, and assault."
"Whaaa-a-a-at?!" said Dunn, his voice cracking with fear.
"That segment last night is being accused of killing the women's wrestling movement, killing the crowd, killing interest in Extreme Rules, attempting to kill Bayley's popularity, attempting to kill Alex Bliss's popularity, and assaulting the fans' senses.. These are very serious allegations. Frankly, in the 20 years of service, I've never seen something so disgusting in my life."
"Poppycock!" shouted Dunn. "It was fantastic television!
"Sir, lower your voice," order Sherriff Talty, reaching for his taser.
"I will not!" screamed Dunn, his voice shrill with anger. "The women's movement is stronger than ever! That's why the women's championships keep changing hands so many times! You're wrong! The fans are wrong! Get this stupid police tape out of my ring!"
As Dunn reached for the ring, Sherriff Talty deployed his taser, and shocked Dunn with 10,000 volts. Dunn was then placed into police custody. It is unknown at this time if WWE CEO Vince McMahon will bail him out.