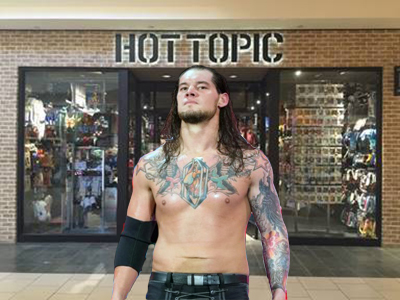 Kansas City, MO – WWE Superstar Baron Corbin has been spending his spare time trying to get his band on to the 2017 edition of the Vans Warped Tour.
Corbin, who recently won Money In The Bank Ladder Match, was seen hanging outside the Zona Rosa Town Center Hot Topic talking to anyone who might look like they'd listen to his band.
"We're trying to get on a few Warped Tour dates in between my matches," explained Corbin. "So I'm hitting up the mall trying to sell tickets to the Warped Tour Battle of the Bands. The winner gets to play the Fidget Spinner Side Stage. It's going to be so dope!"
Corbin, who does vocals and is learning guitar, has said that he has already sold tickets to Seth Rollins, Paige, and even Vince McMahon. "I kind of lied and told him that Sha-Na-Na was going to be there. He couldn't get his wallet out fast enough to buy a ticket after that."
Unfortunately, Corbin still needs to sell a minimum of fifty tickets in order to qualify for the next Battle Of The Bands round.
"Yeah, we're kind of like a mix of post-hardcore and old school metalcore," said Corbin to a group of eye-rolling 15 year-olds leaving the store. "We're kind of in-between names. We were called 'End Of Days' but it turns out there's been like 20 bands with that name. For now, we're just going by 'Corbin'. I think it's pretty badass. Like us on Facebook."
"I also sent a message to George from Stick To Your Guns on Facebook asking if he could hook us up. It says he read it, but he hasn't responded back yet. He's probably just real busy," said Corbin.
Corbin thought he had a sale when a kindly old lady walked past him.
"'Sup, ma'am. Would you be interested in buying a ticket for my band's show?"
"No thank you, dear. I'm not a poser." said the old lady, crushing Corbin's dream of playing with bands like Emmure, Sworn In, and Bowling For Soup.