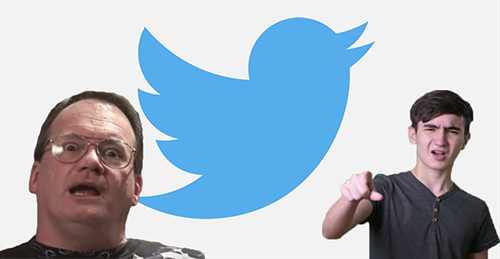 Tampa Bay, FL – All Elite Wrestling have announced that they have signed 14-year-old Jaxxon Pfefer to a multi-year contract after seeing him fight with Jim Cornette on Twitter.
The feud began yesterday morning after Pfefer tweeted a video of several AEW wrestlers playfully giving and no-selling each other's finishing moves and tagged Cornette. Naturally, Cornette derided the participants and their unserious nature, creating an opening for the antagonistic teenager.
"I knew it would make him mad, so that's why I did it," said Pfefer whose previous claim to fame was a TikTok video performing Fornite dances to No Way Jose's theme. "I told him he was old and stupid. I also said that everyone knows it's fake, so it doesn't matter. "
Naturally, Cornette responded with an avalanche of tweets, calling Feffer every possible name imaginable and inventing several Pfefer ones. The back-and-forth lasted for hours with several wrestlers and reporters jumping in to the fray. Jaxxon now has a verified Twitter account and Cornette's podcast passed The Joe Rogan Experience for most listens.
"We were really impressed with the way Jaxxon handled himself and think he would make a huge addition to All Elite," said AEW executive and star Matt Jackson. "The way he made Cornette mad was really special. Not that we care about what Cornette thinks or says."
"Not even a little bit!" chimed his brother Nick while refreshing Cornette's Twitter account on his phone. "Even though he's not trained in any sort of way, we still think Jaxxon will make an impact when AEW premiers. Can you imagine Jon Moxley slamming a 14-year-old kid into a pile of tacks, Fun-Tak, and Tic Tacs? That would make Cornette super mad!"
"Oh!" exclaimed Matt. "How about a 60-minute time-limit draw against Kenny Omega?!"
"I got it! Loser Retires Match against Jushin 'Thunder' Liger!" shouted executive vice president Cody Rhodes.
Doctors have recommended that Cornette be put on strict bed rest after hearing of AEW's plans. They have also told him to limit his use of the word "motherfucker" to emergencies only.
Jaxxon Pfefer shirts have already been created and sold-out on AEW's website. He has also been booked by Game Changer Wrestling to face Nick Gage in a First Blood match.