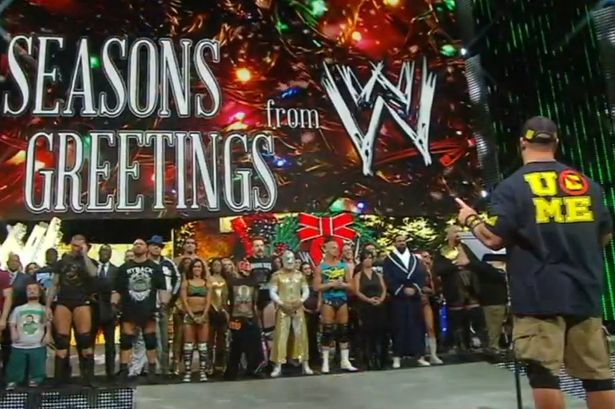 Twas the night before Christmas,
While sitting on the couch
Not a thing on TV was stirring,
Not even an In Your House.
The official Hornswoggle stockings were hung by the chimney with care,
In hopes that St. Vince McMahon soon would be there.
The children were nestled all snug in their beds,
While visions of good wrestling danced in their heads.
And mamma in her custom Daniel Bryan snuggie, and I in my CM Punk cap,
Had just settled our brains in hopes of avoiding any Wrestlecrap.
When out on the lawn there arose such a clatter,
I sprang from the couch to see what sounded like a splatter.
Away to the window I flew like a flash,
Ready to kick someone's stinkin' teeth in like Ax and Smash.
The moon shined on the freshly-fallen snow
Which gave light to the wrestling carnage below.
When, what to my wondering eyes should appear,
But a gaudy WWE sleigh, and sadly not just Stone Cold drinking some beer.
With a big cranky driver, wrestling's true prince,
I knew in a moment it must be St. Vince.
More rapid than Sin Cara to the Emergency Room they came,
And he whistled, "Get the hell out here!"and called them by name!
"Now Mantaur! Now, Max Moon! Now, Meat and Adam Bomb!
On, Kama! On, Kwang! On Katie Vick and Shelton Benjamin's mom!
To the top of the porch! To the top of the wall!
Now get your asses up there or I'll fire you all!"
Before I had a chance to ask logical questions like "What the hell?" and "Why?"
They jumped out of the sleigh faster than Yokozuna's 'Bonzai'.
So up to the house-top the jobbers they flew,
With the sleigh full of garbage, and of course St. Vince too.
And then, in a twinkling, I heard the sleigh's bell
I knew this was going to be crappier than the Kennel From Hell
As I drew in my head, ready to go,
Down the chimney came Mabel, Oscar, and Mo.
They were all dressed like Doink, from their heads to their feet,
And in came St. Vince to take away their heat.
A bundle of toys, clothes, and DVDs he had flung on his back,
And he looked like a carnie, ready to dispense his Wrestlecrap.
His eyes-how they twinkled! His hair a pompadour!
His suit was pastel, his swearing uncalled-for!
His smirking mouth was drawn up like a bow,
And his chin was covered with old ICOPRO.
The wallet in his pocket was stuffed with money,
And he made some innuendo jokes, they weren't funny.
He had a red face and always looked pissed
He shook when he laughed, like a face full of green mist!
He wanted us to watch, no matter how stupid or lame
And I laughed when I saw him, since the outcomes were always the same!
A wink of his eye and a twist of his head,
I knew that my favorite wrestler's push would soon be dead.
He spoke not a word, but went straight to his work,
Giving us things we don't want to see, what a jerk.
We knew we should just hide or turn away,
But I love wrestling and there's no way I'm watching TNA.
St. Vince sprang to his sleigh, to his team said "Come to me!"
And away they all flew like they were hit with the Pedigree.
But I heard him exclaim and give his fingers a snap,
"Happy Christmas to all, and to all a good Wrestlecrap!"